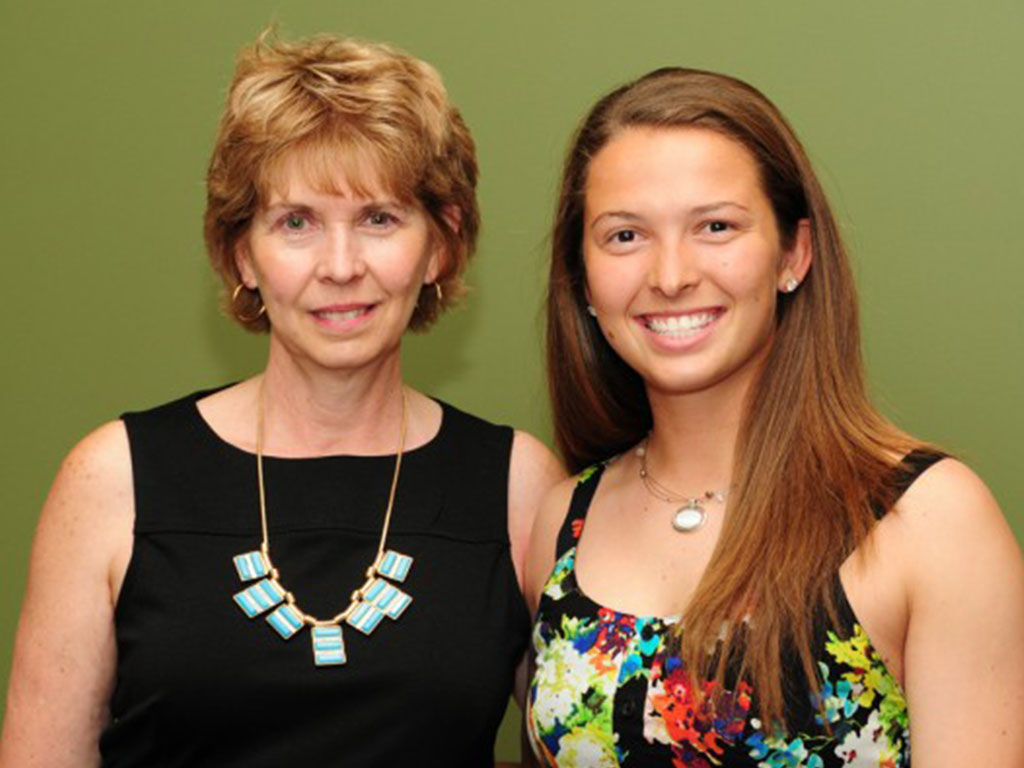 Scholarship winner Shelby Crist (right) poses for a photo with her mother – Photo courtesy of Joe Photo
Kirkwood Announces $18.7 Million in support of student scholarships and learning tools; figure is nearly 50 percent above goal
Two years ago, the Kirkwood Community College Foundation launched the Real World Success campaign. The campaign set a $12.5 million goal and focused on raising funds for scholarships, student support programs, and instructional innovation. Thursday night they celebrated that goal with real numbers that far exceeded their original target.
The Kirkwood Foundation announced a final campaign figure of $18,701,497.  Amid cheers and applause of supporters, Kirkwood President Mick Starcevich noted the tally represented "solid support for student success" now and for the future.
Kirkwood's last campaign closed in 2008 and raised $11.2 million.
"In the history of Kirkwood, this has to rank as one of the biggest red-letter days of all," he said. "These gifts are the tools our students use to make a better start in their classes and get to the final goals of a degree or diploma, to get solid skills to make it in our workforce. We wanted to expand our scholarship opportunities, to make improvements in instructional innovation, and to have resources for the greatest areas of student need. Thanks to more than two thousand one hundred donors, we made great progress in all of those areas. We are truly grateful for this big vote of support."
Kirkwood's two community co-chairs of the campaign shared the good news with a crowd of 250 friends at the celebration, held at The Hotel at Kirkwood Center. Diamond V President and CEO John C. Bloomhall announced the final total for the campaign and emphasized the direct benefits to current and future students.
West Music Company President Stephen West recognized many of the key gifts for the campaign.  Lead gifts over $250,000 were received from ACT, Inc.; Clipper Windpower, LLC; Rockwell Collins; the Rohde Family Foundation/Dakota Red/King's Material/Hawkeye Ready Mix/Jim & Sara Sauter; John & Cynthia Bloomhall; the National Science Foundation; Bert and Suzanne Katz; the Mansfield Charitable Trust; Transamerica; Richard L. Ferguson; MSI Mold Builders/Roger & Gayle Klouda/Edwin & CharLes Klouda; Chuck & Mary Ann Peters; Jim & Margaret Dunn & family.
Support for the campaign was broad-based, and nearly 1,000 of the 2,100 total donors were new alumni donors.
Kirkwood Class of 2013 graduate Shelby Crist thanked the crowd for support she received from the Michelle Starcevich Memorial Endowed Scholarship.
Starcevich capped the evening's celebration by announcing a major gift from Iowa natives Henry and Patricia Tippie. The long-time college benefactors presented the Kirkwood Foundation with a $1 million gift, establishing the Henry B. and Patricia B.  Tippie Endowed Business Scholarships Fund. The endowment will provide funds for many scholarships in the Kirkwood Business and Information Technologies department, one of the college's largest enrollment areas.
In addition to funding over 400 additional scholarships per year, the Real World Success campaign also secured several in-kind donations totaling more than $5 million in value, to further Kirkwood services and initiatives. Key among those were:
Partial donation of real estate and property to establish the new Kirkwood Linn County Regional Center on Boyson Road in Hiawatha;
Land in Washington County to build an expanded Washington County Regional Center; and
A complete wind turbine assembly for training current and future students in Kirkwood's energy production and distribution program.
Kirkwood Foundation officials stated that the scholarship program has tripled in the last ten years.  Approximately $2.4 million was distributed in 2013, with the number expected to exceed $3 million in the next few years. Vice President of Development Kathy Hall says those funds are "the true engine of success" for Kirkwood students.
"These scholarships were a key reason we titled and focused our work around 'Real World Success" in this campaign. We conducted a study a couple years ago, seeking to find out how much these scholarships helped students attain their goals. The results were crystal clear. We found that students receiving a Kirkwood scholarship were more than twice as likely to complete their studies and graduate, compared with those who did not receive such support. That is why every individual, every family and company putting a scholarship in place is investing in our community's success. That is the real-world, bottom-line benefit for all of us," Hall added.
More information on the work of the Kirkwood Foundation is available at the college website: www.kirkwood.edu/foundation