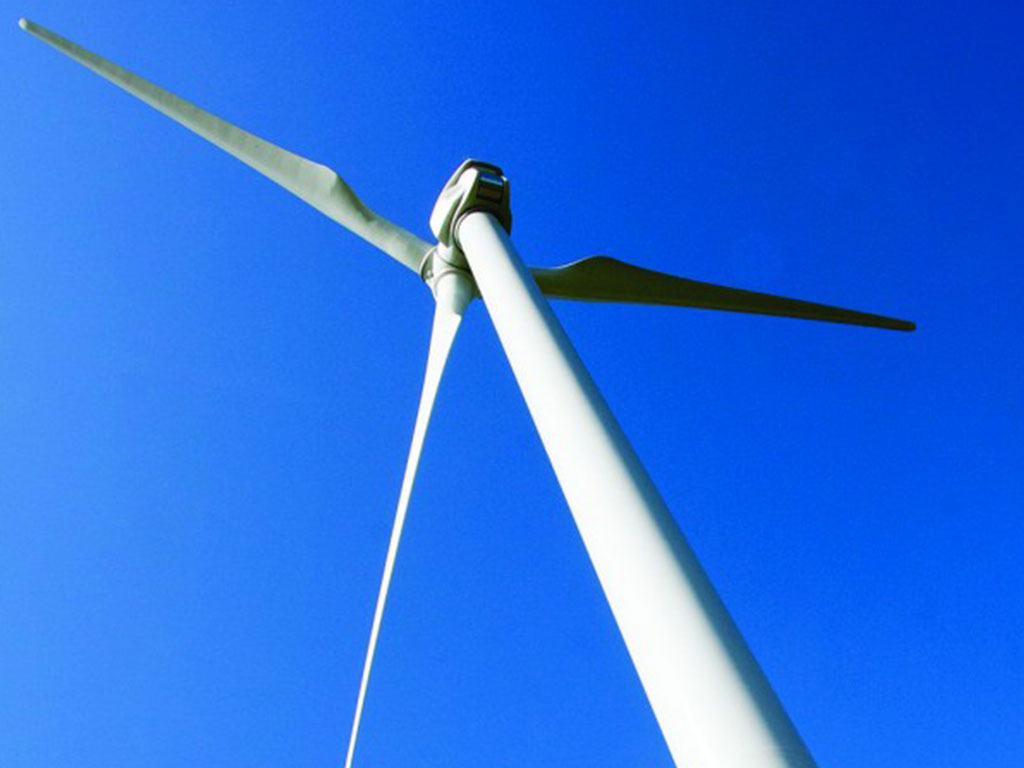 The wind turbine on campus stands as a beacon of Kirkwood's environmental thinking
Energy efficiency and environmental stewardship are standard operating procedures at Kirkwood Community College.
Now the state of Iowa has recognized the college for its hard work and green thinking.
Kirkwood is one of just 12 organizations and businesses to win an Environmental Excellence award from the governor's office and the only to win two awards. The college won the overall Environmental Excellence Award as well as the Special Recognition in Waste Management Award.
"It's great to be recognized by the state for the work we incorporate into our daily tasks," said Facilities Director Tom Kaldenberg. "Every time we build something on campus, or look at a new initiative with our facilities, we look at our impact on the environment and energy-efficiencies we can make."
In winning the overall Environmental Excellence Award, the state noted that Kirkwood "has taken innovative and bold steps toward being a leader in environmental stewardship. As the college devotes resources to environmental improvement programs, it consistently practices sustainable decision-making by balancing considerations of environmental impact, community and social responsibility, and financial outcomes."
Reducing and managing energy consumption, a roof system that catches rainwater, installing a wind turbine, an electric vehicle charge station for public use, an extensive tree planting effort, planting native prairie and waste reduction are some of the things Kirkwood does as part of its commitment to sustainability.
The state singled out the early success of Kirkwood's waste reduction initiative with the Special Recognition in Waste Management award. Kirkwood's commingling program was launched campus-wide at the start of the fall 2011 semester. The program removed trash receptacles from classrooms and made recycling receptacles available on each floor of every building.
In the first four months of the program, Kirkwood diverted 26 tons of trash from the landfill. The college's goal is 75 percent landfill diversion by 2014.
Earlier this year Kirkwood was named the winner of the Best School Recycling Program by the Iowa Recycling Association and recognized as a Tree Campus USA by the National Arbor Day Foundation.
Another exciting new green initiative is the Iowa Sustainability Village, which will immerse students in hands-on training and serve as a real-time laboratory to test developing technologies.
Jim Off, Kirkwood Construction Management instructor, said the project, the first of its kind in Iowa, began this summer on a small plot east of Jones Hall, at Kirkwood's main campus.
The long-term vision for the Iowa Sustainability Village includes a cluster of three 1,000-square-foot residential cabins, an educational center and an industrial production facility. The cabins will not be inhabited, but will instead be fitted with programmable logic controllers that will simulate the typical American lifestyle.
Besides providing important hands-on training for student from multiple departments, the village will serve as a demonstration area, open for tours and outreach. "One very important aspect the village will provide is valuable insight for local builders and contractors who want to use the best designs and materials," Off said. "As the industry moves to better incorporate affordable, yet sustainable energy sources, we will have the data to help them make informed choices."