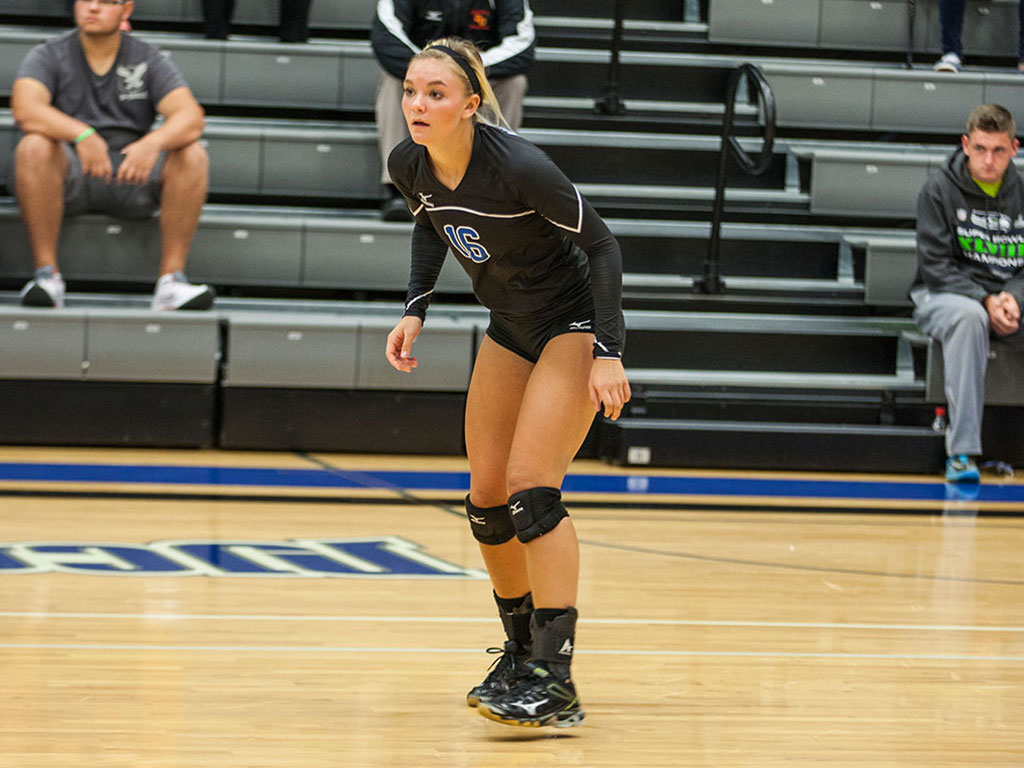 Kirkwood's Halle Lueck
UPDATE: November 8 2014
Eagles Defeated
The Eagles were defeated in the regional championship game by Iowa Central which ended their season. Stay tuned to The Kirkwood Report for more coverage of Eagles volleyball.
UPDATE: November 6, 2014
Eagles Advance
The Kirkwood Eagles volleyball team defeated NIACC in the first round of the Region XI-A tournament (25-16, 25-13, 25-13). The team now moves on to the finals versus Iowa Central on Saturday at noon in Mason City. The game will be live-streamed online as well. You can watch it here.
For more coverage check out www.kirkwoodeagles.com.
November 5, 2014
Eagles Host North Iowa Area Community College tonight at 7 p.m. in Johnson Hall
The Kirkwood volleyball team wrapped up the regular season with record of 32-8 and earned a share of the NJCAA Division II Region XI regular season crown. The Eagles now move on to the Region XI-A tournament where they are the number one seed.
Head Coach Jill Williams had her team in the top ten for the entirety of the season, rising as high as the number one team in the nation at one point.
The Eagles are led by a combination of veterans and young talent and rank near the top in multiple categories. Sophomore Heather Poula, a first-team All-American last year, is among the national leaders in both kills (489, 8th) and kills per set (3.76, 10th). Freshman Halle Lueck is also in the top ten statically for assists per set (10.45, 7th).
The team now head to the postseason as one of the teams to beat in the Region XI tournament and hope to return to the national tournament after missing it by one game last season. Their first test of the postseason is the fourth-seeded North Iowa Area Community College (NIACC) Trojans tonight in Johnson Hall beginning at 7 p.m.
*****NJCAA DIVISION II REGION XI-A TOURNAMENT FIRST ROUND*****
What: #1 seed Kirkwood (32-8, 7-1) versus #4 seed NIACC (11-21, 1-7)
Where: Johnson Hall on Kirkwood's main campus
When: Tonight at 7 p.m.