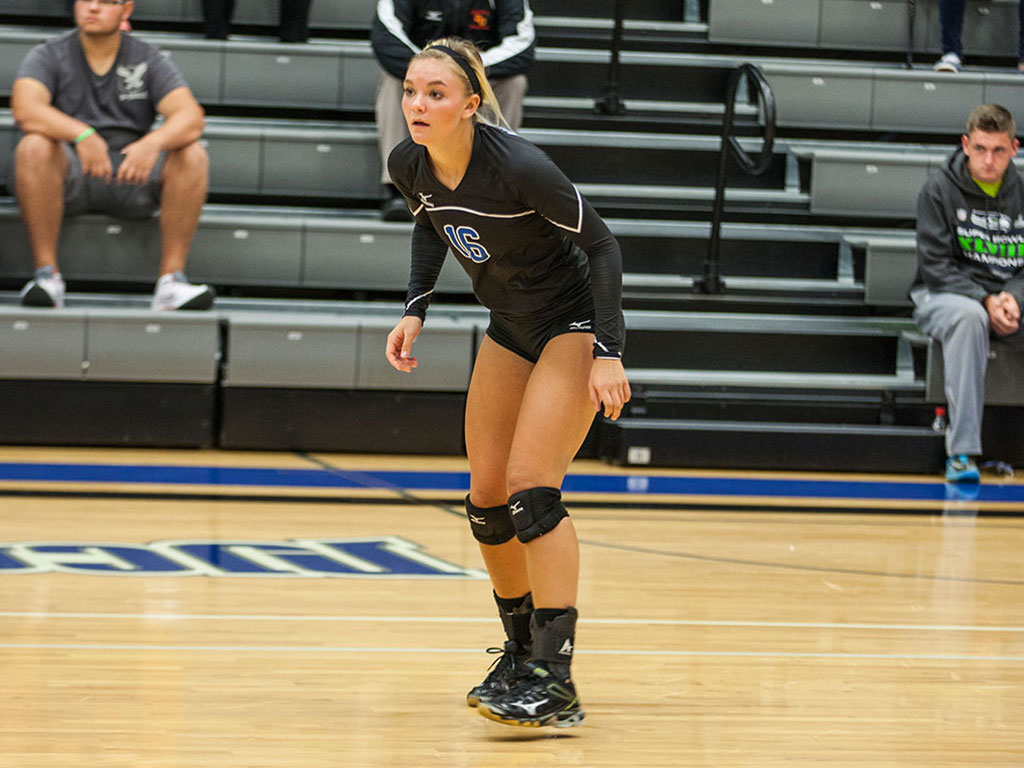 Halle Lueck and Erin Wenzel cap stellar season with All-American honors
Cedar Rapids, Iowa (Dec. 4, 2015)-The Kirkwood Eagles volleyball team finished an incredible season by finishing seventh in the nation after an improbable run in the National Junior College Athletic Association (NJCAA) Division II National Tournament.
Twelfth-seeded Kirkwood's cinderella story at the national tournament began with their stunning victory over number five seed Owens Community College in four sets. The win moved them on in the tournament and to an eventual top-ten national finish. The amazing end to the season followed a NJCAA Region XI-B championship.
Kirkwood Head Volleyball Coach Jill Williams pointed to teamwork and veteran leadership as the reason for the team's success this season.
"You don't make it this far without great team chemistry," said Williams. "This year there was always a 'team first' mentality and it showed not only in games but in practice as well. Our sophomores really stepped up and took leadership roles. They showed the freshmen how to win as a team and that took us all the way to a seventh place national finish. I'm really proud of everything we accomplished this season. After all the work our players put in, they deserve all of the accolades they are getting."
In addition to what the Eagles accomplished as a team, some players garnered national attention for their phenomenal play. Halle Lueck, one of the top setters in the NJCAA, was named a first team All-American. She was second in the nation with 1761 assists, averaging 9.84 assists per set (11th in the nation). Outside hitter Erin Wenzel earned second team All-American honors. She was among the best in the country in most offensive categories important to her position. Wenzel was second in the nation in kills (627), first in total attacks (1,893) and fourth in points (723.5). Both Lueck and Wenzel were named first team All-Conference as well.
The future is bright for the freshman class of Eagle volleyball players as well. Outside hitter/ middle blocker Morgan Grimm and middle blocker Alex Miner were named All-Conference honorable mention.
The Eagles finished the season with a 30-17 record and will have high expectations heading into next season.
For more Kirkwood Eagles coverage, go to www.kirkwoodeagles.com.