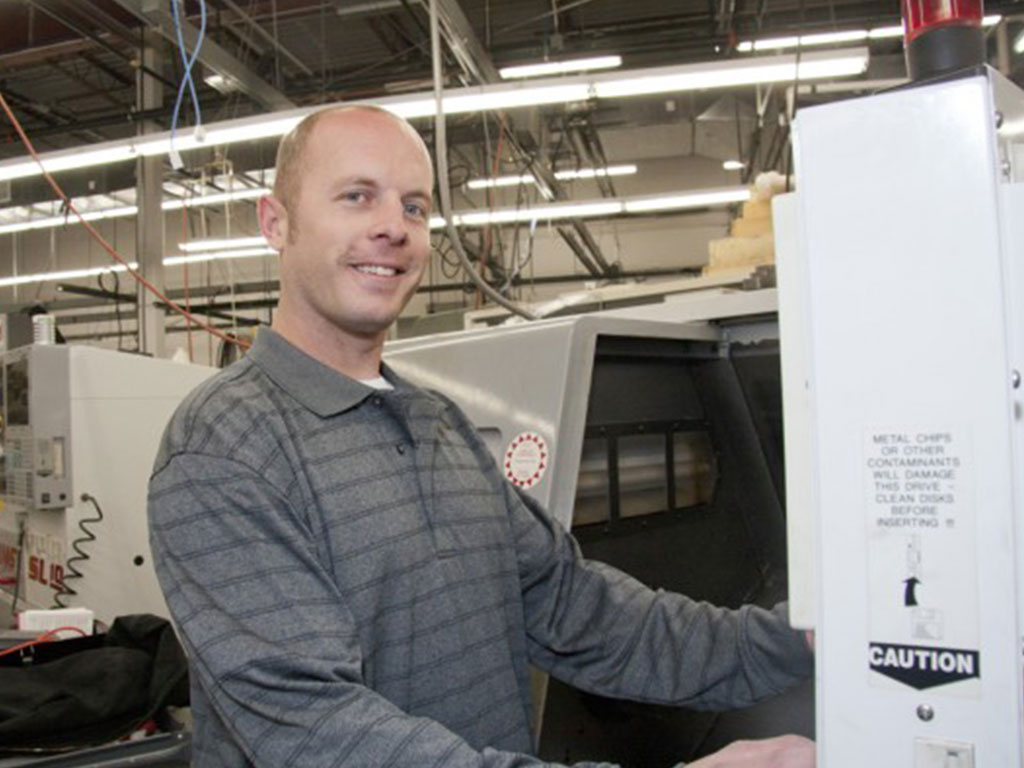 Casey Deboer
Casey Deboer, who graduates from Kirkwood this May with a new, full-time job waiting for him, exudes the winning combination of great instruction and hands-on learning to which he's been exposed.
That accomplishment is especially satisfying for the Cedar Rapids man, a full-time Kirkwood student who also works part-time at Agro Manufacturing. It took him a while to find his path.
"I just wasn't finding what I liked," says Deboer, 30, until he worked at J.E. Adams Industries, a local manufacturing firm. "CNC machining really sparked my interest. It's hands-on. And I use my brain a lot, so it's a great mixture of the two practices."
A coworker training Deboer – himself a Kirkwood graduate – advised him to better learn his trade through Kirkwood. Deboer checked it out, started in January 2011 and by fall was enrolled in the Computer Numerical Control (CNC) Machining Technology program.
There, he found his niche, honing his skills in manufacturing precision parts and products.
"About 90 percent of CNC is hands on and that's the way I learn the best, by just doing it," he explains. "That's what I really enjoy about the program and the teachers are great."
Better yet, Deboer received financial support from Kirkwood's Metal Design Systems Scholarship and the Edwin F. & CharLes Klouda Endowed Scholarship. Receiving support inspired Deboer to do his best, especially by the Klouda scholarship's requirement to maintain a good grade point average.
"I got interested in the scholarships because they gave me an incentive. It helped push me through because there was a reward for me at the end," he adds. "They really did help. It lifted a burden off my shoulders."
Deboer's understanding of how to program, edit, set up and operate CNC lathes and mills made him the right candidate for his perfect job: full-time work on the first shift at Agro Manufacturing, starting immediately upon graduation.
"It feels good," Deboer says, smiling. "Having that degree from Kirkwood really puts you above a lot of others competing for those jobs. The school has a really good reputation with companies around here. Kirkwood's been great."
Ultimately, Deboer hopes to reach another goal with his training.
"I've always had a need to help out people in some way or another. I figured, why not use my talents with CNC machines and combine it with helping others cope with everyday life?" Deboer says. "Doing this, I could make prosthetic limbs or mechanical moving parts for people, allowing them to get through life a little easier."