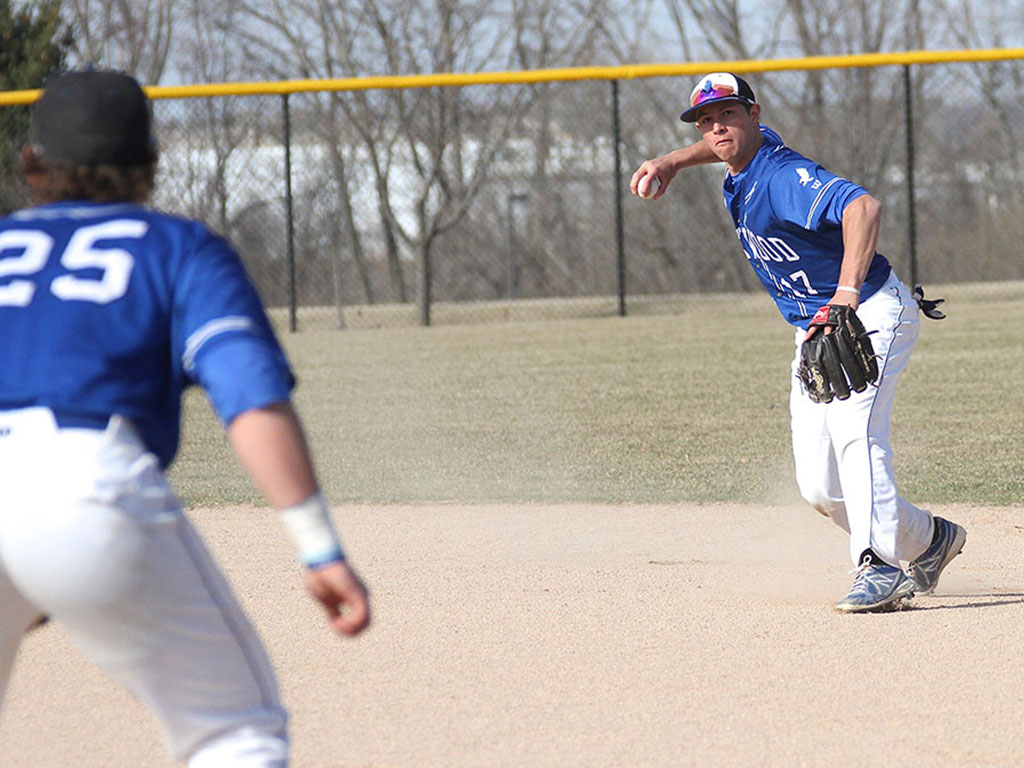 Kirkwood's Austin Schmitt makes a play
Pieces in place for run at Region XI championship
Cedar Rapids, Iowa (February 10, 2015)-The Kirkwood baseball team will open the 2015 season versus Johnson County Community College on February 13 in Overland Park, Kan. The Eagles start the season on the road and hope to build momentum before opening the home slate on March 21.
Last season the Eagles made significant strides in Head Coach Todd Rima's second season. The team started the year hot with an 8-0 record and cracked the top 20 rankings as well. Kirkwood finished with a 30-19 record and a fourth seed in the Region XI tournament. However, their season ended with a loss to Iowa Central.
Now in his third season, Rima will try to push the Eagles to reach even new heights. However, this year's team is stocked fresh with young talent that will need to learn how to play at this level from the returning sophomores.
While a good portion of the team hails from all over the United States and beyond, a handful of players competed at local high schools before they became Eagles. Redshirt freshman utility player Noah Dostal (Cedar Rapids Washington) is joined by true freshmen outfielder Bryce Grimm (Cedar Rapids Xavier), pitcher Nick Drahazol (Cedar Rapids Xavier), pitcher Ben Milks (Cedar Rapids Prairie), pitcher Nolan Even (Cedar Rapids Xavier) and pitcher Michael Haring (Iowa City High).
After opening the season versus Johnson County Community College in Overland Park, Kan., the Eagles will continue with a schedule of road games until their first home game March 21 against rival DMACC.