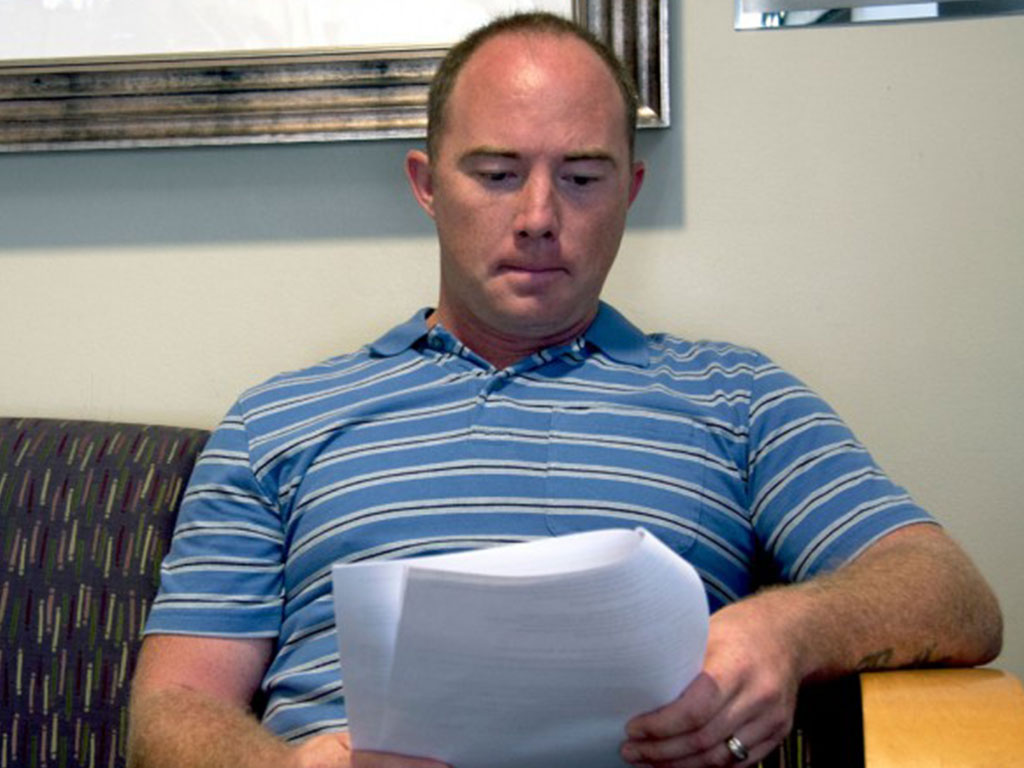 Butler reads over some notes
Everything happens for a reason. Sometimes, adversity has a purpose, revealing our innermost strength and potential. Just ask Norman Butler.
The Army combat veteran, husband and father of four was working more than full-time as a warehouse manager in Cedar Rapids. With Veterans' Administration and GI Bill money for college, he decided to talk to someone at Kirkwood. That someone was Vicki Terronez, Kirkwood's longtime Veterans Affairs Certifying Official. While Norman wanted to take the applications home and sleep on the idea a few days, Vicki strongly encouraged him to complete the forms on the spot.
"If she hadn't made me stay and fill out the forms, I would have procrastinated," Butler said. "I wouldn't be here if it hadn't been for Vicki, I'm sure of that."
"When Norm first walked into my office in November 2010, I got the impression of a straight-forward kind of guy," Terronez said. "He was on a mission to pursue his education, but wasn't sure if he could swing it, while juggling work and family. I had no doubt that he would get the job done and do it well. He didn't disappoint."
Nearly 750 veterans attend Kirkwood regularly, and the school was deemed a "military friendly" college in 2007, meaning Kirkwood welcomes veterans with policies and procedures to help them transition easily to college. A year into working 50-plus hours a week, attending school full-time (earning straight As) and trying to find time for his family, Norman's world turned upside down: he lost his job.
It's funny how an impulse to check on school and the firm encouragement of a caring staff member later became the safety net during hard times. But even through financial hardship, Norman sees the opportunities in the shadows.
"I'm glad things worked out the way they did," he said. "I changed programs into something a lot closer to what I'm comfortable doing, I did an Honors project and I'll graduate next spring."
Strength and persistence come from within, but some friendly coaxing by Vicki and Russ Bush, an Information Technology instructor at Kirkwood, along with a few grants and scholarships to help pay for school, have gone a long way, too.
"Vicki has helped me every step of the way," he said. "If I have questions, she's always there. Russ has been a huge factor in my learning experience. He's a great teacher. I'm so grateful for their help and support. These two people really mean the world to me."
That sentiment is mirrored by instructor Bush.
"Norman is a problem solver," Bush said. "He actively seeks solutions and he's not satisfied with just getting a job done. He wants to dig in and thoroughly understand what he's doing. His work ethic and attitude are so impressive. I have no doubt he will be quite successful."
The support of his wife, instructors and the Kirkwood Foundation, along with hard work, has put him on the road to a future career as a network administrator. He, his wife Crystal and their four children currently reside in Vinton, and Norman plans to continue to take technology classes after he earns his degree.
"No matter what the class is, even the most basic of courses," he said. "I can always get something very valuable out of it."
That's the kind of attitude that leads to real world success.