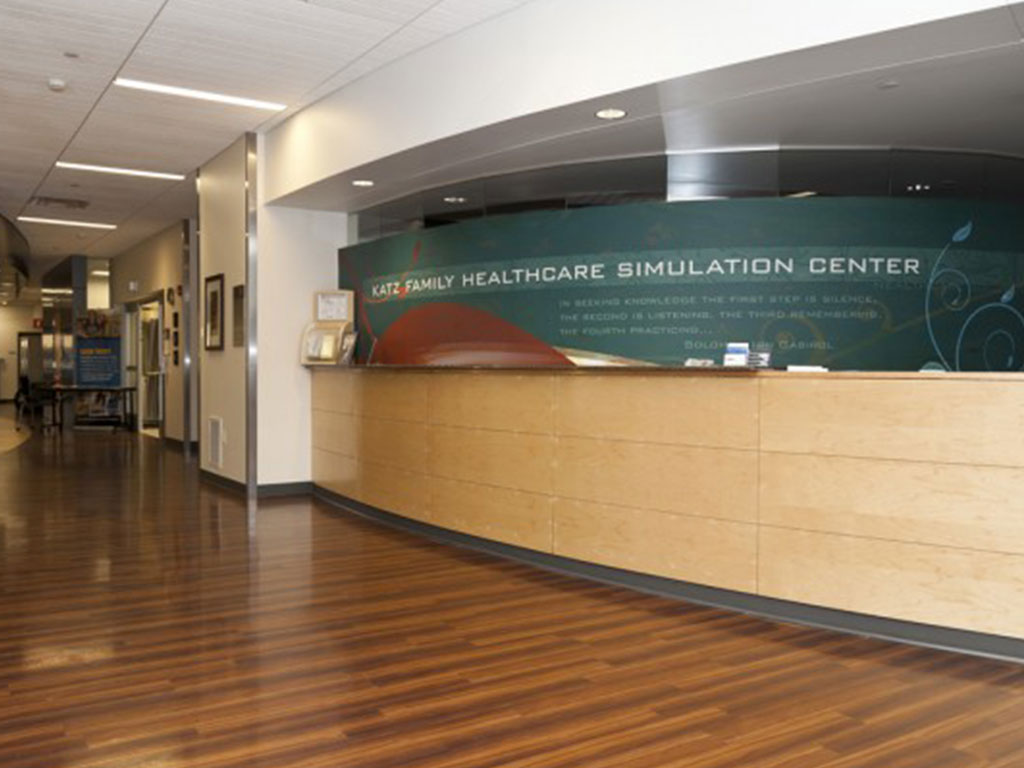 The Katz Family Healthcare Simulation Center
Healthcare Simulation Center dedicated
For more than three years, a high-tech teaching center at Kirkwood Community College has aided nurses, first responders and other healthcare workers in preparing for their careers. Now the location will continue that work—with a new name.
Officials honored long-time donor/supporter Bert Katz and others in the Katz family by naming the facility the Katz Family Healthcare Simulation Center. More than 100 Kirkwood leaders, community partners and staff attended the Sept. 13 ceremony recognizing the family for more than $1.7 million in donations over the past 13 years.
President Mick Starcevich saluted the donors for "their lasting and valuable gifts" to Kirkwood and other charities in Linn County.
"At Kirkwood, the Katz family has endowed scholarships that have helped our students by the hundreds for well over a decade. In 2001, a gift from the estate of Henry and Sara Katz endowed a substantial scholarship for nursing students. Bert's new gift of $500,000 will endow scholarships for future healthcare professionals. A future scholarship from the estate of Suzanne Katz will endow a major performing arts scholarship. In all, the family's giving to Kirkwood has totaled more than $1.7 million and created a remarkable legacy here," Starcevich observed.
Mr. Katz concluded the ceremony with his own remarks. He applauded Kirkwood's leadership over the years and reminisced on the college's growth over time. He told a story of a business colleague driving him out "to a farm on the southwest side of Cedar Rapids" in the mid-1960s, and saying there would soon be a college building there.
"My brother Henry used to say, 'You won't get anything done without a good boss.' I have to say Kirkwood has had some great bosses, from Norm back to those founding leaders in the Sixties, up to Mick today. And I would think the Cohn family would be pretty proud of how this college has grown on the farm they used to own. We are pleased to put our support into Kirkwood and these worthy students," Katz added.
The Katz Family Healthcare Simulation Center is the training hub for Kirkwood's many Nursing, Allied Health and related education programs. College officials estimate that nearly 4,400 credit students have used the high-tech human simulators and realistic hospital and home settings since the center opened in 2009. Many hundreds of area EMTs, first responders and public safety officials have also used the facility for refresher and certification training to stay current in their professions.
The 10,000 square foot center employs nine high-fidelity simulators, from neonatal to elderly profiles. Six patient care rooms represent an emergency/operating room and intensive care unit, plus a pediatric room, birth suite and realistic home environments.
The simulation center was built with funds from the State of Iowa, a Federal workforce grant supporting the simulators, plus donations from the Kirkwood Foundation for medical equipment. Kirkwood officials pooled and saved resources for three years, allowing construction of the center with minimal leveraged funds.
More information about the Kirkwood Foundation is available at www.kirkwood.edu/foundation.