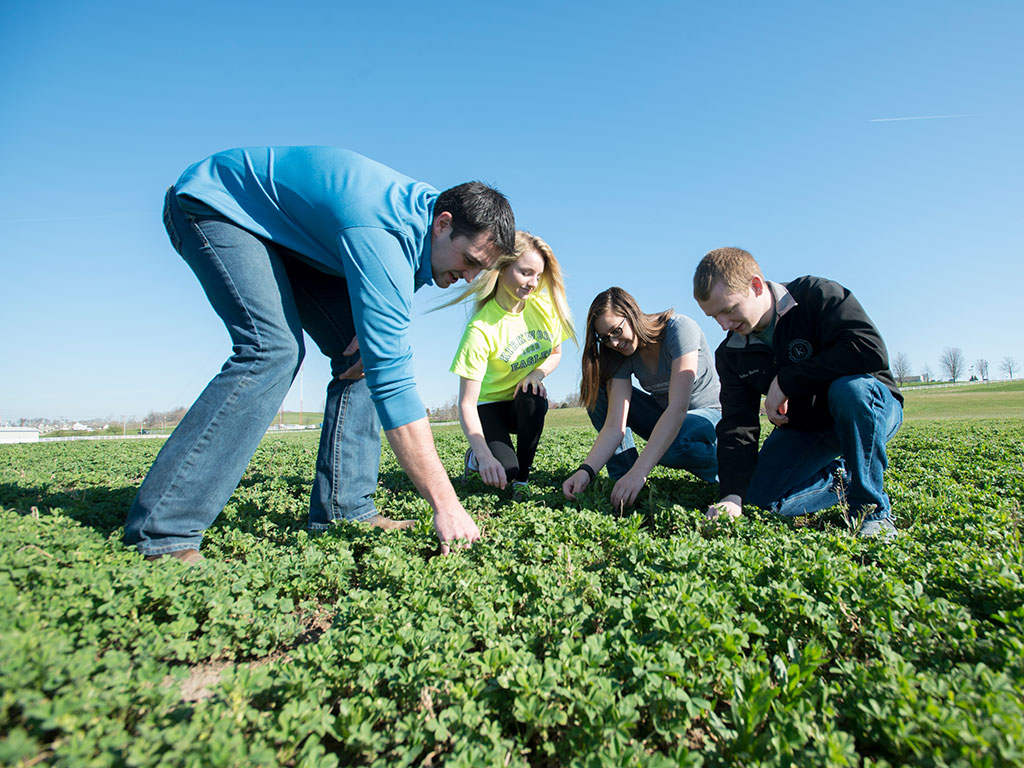 Kirkwood graduates now have seamless opportunity to become Buena Vista Ag majors
CEDAR RAPIDS, Iowa (Feb. 11, 2020)–Kirkwood Community College Ag students seeking a four-year degree in agriculture may now earn one in eastern Iowa through a partnership with Buena Vista University (BVU).
A student who has earned an Associate of Arts (A.A.), Associate of Science (A.S.), or Associate of Applied Science (A.A.S.) in the agriculture program at Kirkwood will be accepted as a transfer student at BVU with junior class standing.
"A student with an A.A. degree from Kirkwood Community College will be considered to have met the general education requirements for a Bachelor of Arts (B.A.) or Bachelor of Science (B.S.) degree and can transition right into BVU's Agricultural Business program," said Dr. Brian Lenzmeier, BVU provost and vice president for academic affairs. "Students who have completed an A.S. or A.A.S. can transition right into BVU's Agricultural Studies Bachelor of Applied Science (B.A.Sc.) program. Our partnership with Kirkwood makes perfect sense, as there is a need for a four-year degree completion program in agriculture in eastern Iowa. We will provide opportunities for students who wish to remain living and working in eastern Iowa to complete their four-year degree."
Many of these students have used their Kirkwood associate's degree to gain or continue employment in the Ag sector. By taking online and hybrid classes through BVU and using the state-of-the-art agriculture science facilities at Kirkwood for hands-on learning opportunities in some of those classes, students will be able to earn a four-year degree while retaining their job. The new degree through BVU will allow those students to advance in their career field, in any number of agricultural endeavors, or, perhaps, start their own business.
"This is a wonderful opportunity not only for BVU and Kirkwood Community College, but for students all across Iowa and the Midwest," said BVU President Joshua Merchant. "Our ever-changing world relies on students who are passionate about doing everything from feeding our growing population to building communities. Many of those solutions are based in agriculture, the industry Iowa knows better than perhaps any other place in the world. It is both humbling and inspiring to play a role in bringing young people together in agriculture as they grow and shape our state as a global leader."
BVU will begin enrolling students at the present time, as many online courses are already available. Kirkwood faculty members have expressed excitement at the prospect of offering 300- and 400-level advanced agriculture courses via this partnership.
"We hear from our students here as they stay and earn jobs that this partnership with BVU will now allow them to remain in eastern Iowa and continue their educational journey as an agriculturalist while earning a four-year degree," said Scott Ermer, dean of Agricultural Sciences at Kirkwood. "This fact isn't only important to our students, it's also a great development for the continued growth of our state."
The sentiment was echoed by BVU Board of Trustees Chair Dr. Norman Nielsen, who, for 20 years, served as Kirkwood Community College president.
"As a BVU alumnus, I'm so pleased we could form a partnership with Kirkwood, where I served as president," Nielsen says. "The agreement matches a pair of winners and innovators in Kirkwood, which features Iowa's leading two-year Ag program, and BVU, which launched its Institute for Agriculture, Food, and Resource Management in 2018."
The partnership will also see BVU's agriculture majors visiting Kirkwood for hands-on experiences.
"BVU ag students will visit Kirkwood on occasion to participate in hands-on instruction at Kirkwood," said Lenzmeier. "Kirkwood has a working farm, animal and animal-husbandry facilities on a scale we're excited to tap into."