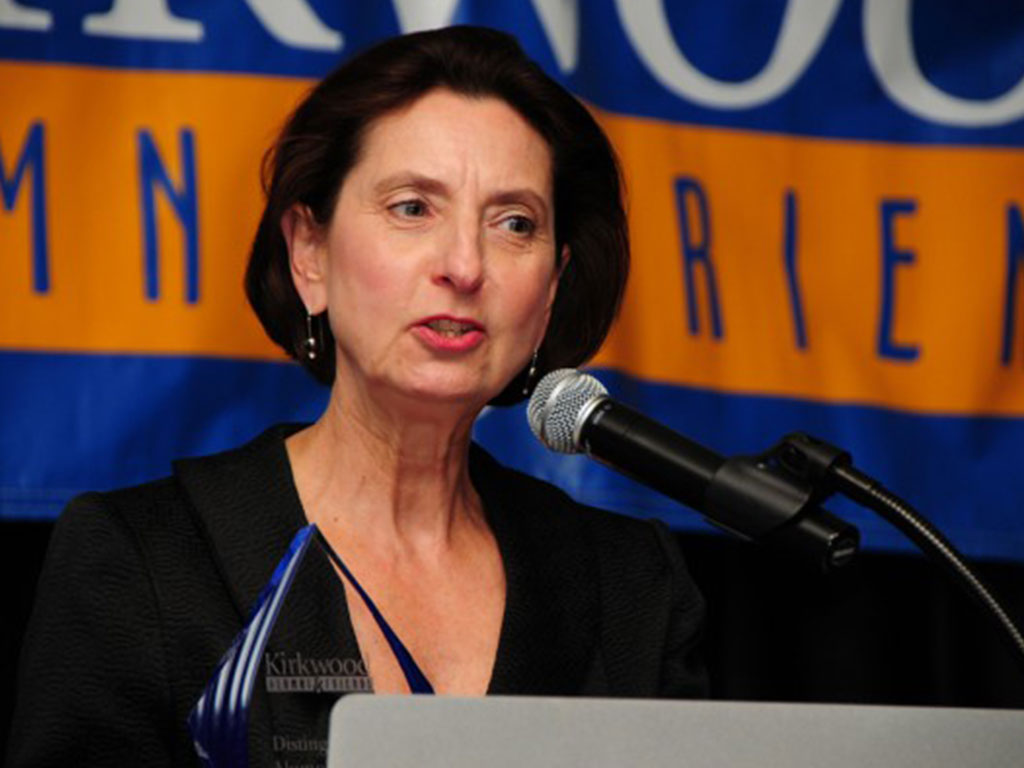 Birgit Klohs accepts her award
First annual Celebration of Success program honored corporate and professional contributions
Since the founding days of Kirkwood Community College, nearly 70 thousand people have earned degrees and built careers from their Kirkwood studies. On April 5, more than 250 alumni, college leaders and supporters gathered to spotlight some of those accomplishments.
The Kirkwood Foundation hosted the first annual Celebration of Success event at The Hotel at Kirkwood Center. The program celebrated distinguished alumni, business partners and leaders in education. The five awards were accompanied by a keynote speech by Kent Stock, the real-life inspiration for the 2007 film The Final Season.
The President's Award honored the long-term Kirkwood support and partnership of Transamerica. The company has worked closely with the college for nearly three decades, providing help with buildings and endowed scholarships as well as ongoing corporate and workforce training. Transamerica Senior Vice President Lon Olejniczak accepted the award for his employer, remembering his own "alumni" status as a former Kirkwood employee.
The first annual Trustee's Award was presented to Dr. Kim W. Johnson, vice president of Kirkwood's Continuing Education and Training Services. Johnson began working at the college in the late 1970s and earned a two-year degree over the next few years. She later earned degrees from the University of Iowa and Iowa State University, culminating in her 2010 doctorate in higher education.
The Kirkwood Celebration of Success ceremony also recognized three alumni for their career and community contributions:
Birgit Klohs, CEO of The Right Place, Inc. in Grand Rapids, Michigan. After moving to Iowa from her native Germany in the early 1970s, Klohs continued to build her career skills with a Kirkwood secretarial degree. Soon after she moved to Michigan, pursued jobs in the private sector and earned two more degrees from Western Michigan University. Klohs is renowned as a business leader and community volunteer, earning a multitude of honors and awards.
Metro Studios President-Owner Al Schmidt exemplified the Kirkwood slogan, "Start Here, Go Anywhere" by launching a small business soon after his two-year studies were completed. Metro Studios now provides a host of media and marketing services to clients around Iowa and in a second office in Arizona. His co-owners and staff include several fellow Kirkwood graduates. Schmidt was honored not only for business success but also his many support projects for area nonprofits and charitable organizations.
The final alumni award was given to Michael J Gould, who earned two Kirkwood degrees in the 1970s and 1980s. Gould first pursued law enforcement as a career and served in the Linn County Sheriff's Department. A workplace accident forced him to re-consider other career options, and he earned another associate's degree in health science. He and his wife, Janice eventually started two health care related businesses. By the time the couple sold one of those firms in 2005, it employed more than 200 people in 22 states. Both firms are still active in the industry today.
In his remarks to the crowd, Gould emphasized the "incredible work and great service" that Kirkwood provides to its students. "There were a lot of times that I ran into a wall in my life. Kirkwood made a door for me, a door I could go through to pursue a career. That made all the difference for me. You people at Kirkwood are truly special. You give them doors through those walls," he said.