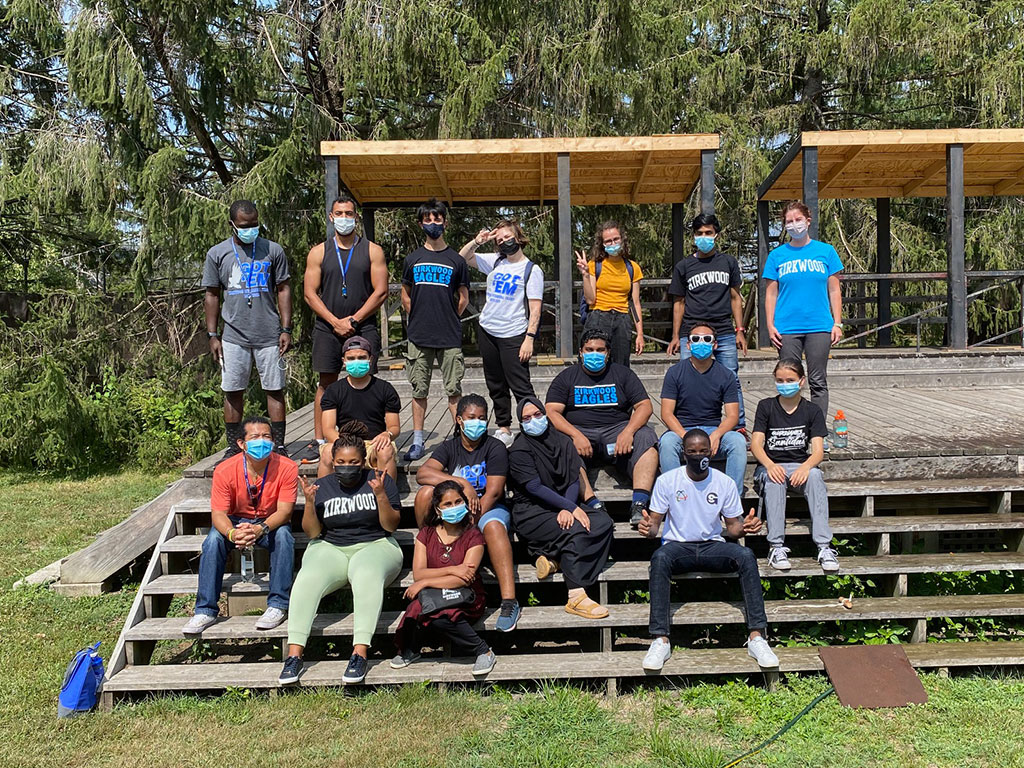 CCI Participants volunteering at Brucemore Mansion on August 20, 2021
CEDAR RAPIDS, Iowa (September 16, 2021)–Kirkwood Community College is hosting 16 international exchange students for the 2021-2022 academic year as part of the U.S. Department of State's Community College Initiative (CCI) Program. This year, CCI participants studying at Kirkwood are from Bangladesh, Colombia, Côte d'Ivoire, Egypt, Ghana, India, Indonesia, Turkey and South Africa.
Nationally, the CCI Program will provide 191 participants from underserved global communities with a one-year, non-degree academic program in workforce development fields at eleven U.S. community colleges in eleven states. Participants will build technical skills, enhance leadership capabilities, and strengthen their English language proficiency as well as contribute to their U.S. host communities by bringing diverse, global perspectives to classrooms, campus life and local organizations. The program also provides opportunities for professional internships, service learning and community engagement activities to build relations between citizens of the United States and other countries. In the past five years alone, CCI participants contributed over $4,360,000 in service to local U.S. communities through volunteering and unpaid internships, as calculated by independentsector.org rates for volunteer hours.
"Kirkwood is excited to once again welcome CCI students from all over the world to our campus," said Kirkwood Dean of Global Learning Dawn Wood. "While they're here, these great students will develop global workforce and leadership skills. At the same time, they will also bring with them the knowledge and experience of cultures that people in the Kirkwood community may not have been exposed to before. It's really a wonderful global learning opportunity for everyone involved."
The Institute of International Education states that in 2017-2018, less than 11 percent of all undergraduate students in the United States had the opportunity to study abroad. This number drops to about two percent at community colleges. International exchange programs provide internationalization of U.S. campuses in addition to an opportunity for students to learn from others to prepare them for their role as global citizens.
After completing the CCI Program, participants return home with a deeper understanding of U.S. culture and with improved technical and vocational skills to contribute to the economic development of their home communities.
About Kirkwood Community College
With the most credit programs of any community college in Iowa, Kirkwood Community College boasts more than 18,000 annual college-credit students, while maintaining one of the lowest tuitions in the state. All students are eligible for federal financial aid and the college offers more than $3 million in scholarships each year to students from all walks of life. Kirkwood is a convenient, innovative and visionary educational leader that strives to remain affordable and accessible.
About CCI
Since 2007, the CCI Program has hosted more than 3,400 participants from 21 countries. This U.S. Department of State program is administered by Northern Virginia Community College (NOVA) in cooperation with the NOVA-led Community College Consortium. For further information, please contact the NOVA CCI Team at CCCIP@nvcc.edu and the Bureau of Educational and Cultural Affairs at eca-press@state.gov.