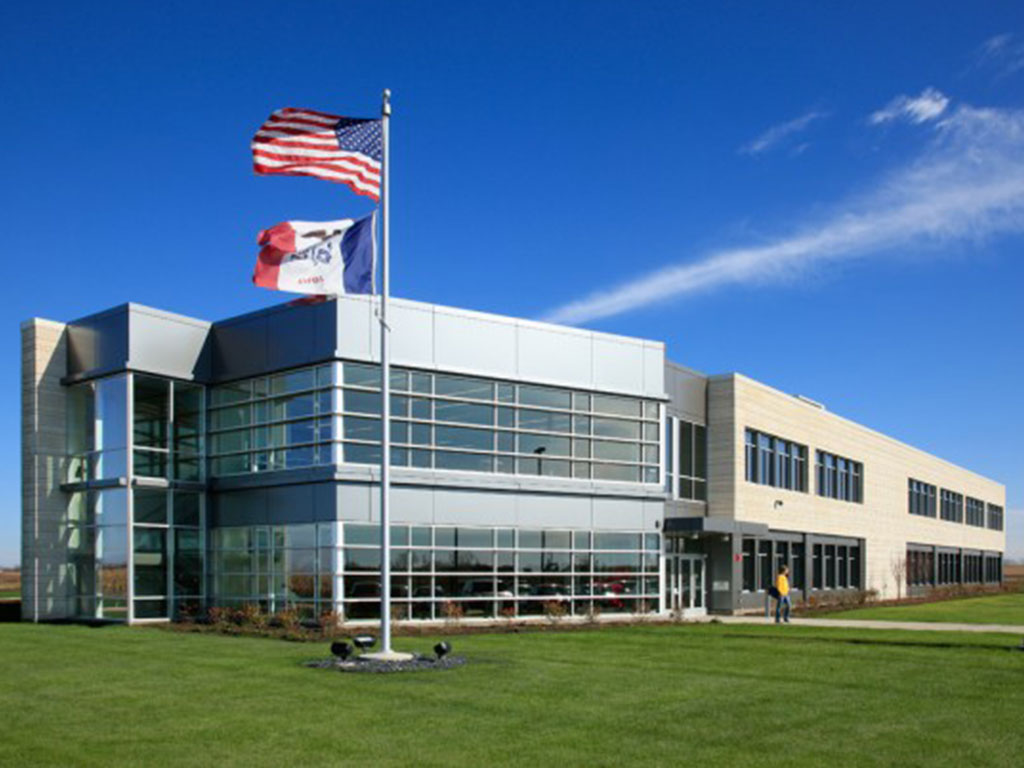 Jones County Regional Center
From the time the first shovel struck the ground to carve out a niche of cornfield for the main campus, Kirkwood has and always will be the community's college.
This promise to eastern Iowa is nowhere more evident than Kirkwood's new regional centers, set to become community campuses crafted by deep partnerships between Kirkwood, area school districts and local industry.
"This is truly a grassroots initiative that will benefit local students and local business," said Kristy Black, dean of regional and county centers. "Today's global economy has forced significant changes in the way we deliver education. Roughly 70 percent of all new jobs require training beyond high school, plus stronger preparation in science, technology, engineering and math. The time for secondary and post-secondary institutions to partner is now."
Kirkwood's Jones County Regional Center, built in 2009, has served as a statewide model for collaborative education. Its overwhelming success led the college to plan three additional regional centers to accommodate students across Kirkwood's seven-county service area.
"The broad scope of the courses offered within their walls will make education more accessible to everyone, from high school students up through adults who might need certification for a promotion or a whole new career," Black said. "Kirkwood's industry partners provided thoughtful input for the classes to be offered at each location. With their help, training programs offered will directly feed employment needs of specific regions."
Each regional center will offer traditional college programming and services, as well as innovative, high-tech career academies with industry-recognized certification for high school students. Nearly 40 area high schools have signed on to send their students to one of the regional centers to take advantage of technologically advanced, hands-on classes in state-of-the-art facilities. "School districts can send students to a regional center and not be burdened with constructing new lab facilities on their own," Black said. "In the long run, this type of innovative thinking will save taxpayers millions."
The unique partnership between Kirkwood and the school districts not only helps students train for future high-skill, high-wage careers, but it allows them to earn college credit free of charge. Last year alone, families in Kirkwood's seven-county service area saved nearly $2.5 million in college tuition by taking advantage of concurrent enrollment options. The savings are expected to be even higher once the new regional centers are open and functioning at full capacity.
"Our new regional centers truly represent the visionary thinking Kirkwood is known for," Black said. "In the spirit of collaboration, we've brought together secondary and post-secondary schools and employers in a way that will boost our region's economy and overall quality of life."
For more information, go to www.kirkwood.edu/regionalcenters.
Linn County Regional Center
1770 Boyson Road, Hiawatha
Opens Fall 2013
Washington County Regional Center
Lexington Boulevard, Washington
Opens Fall 2014
Kirkwood Regional Center at the University of Iowa
Oakdale Campus, Coralville
Opens Fall 2015