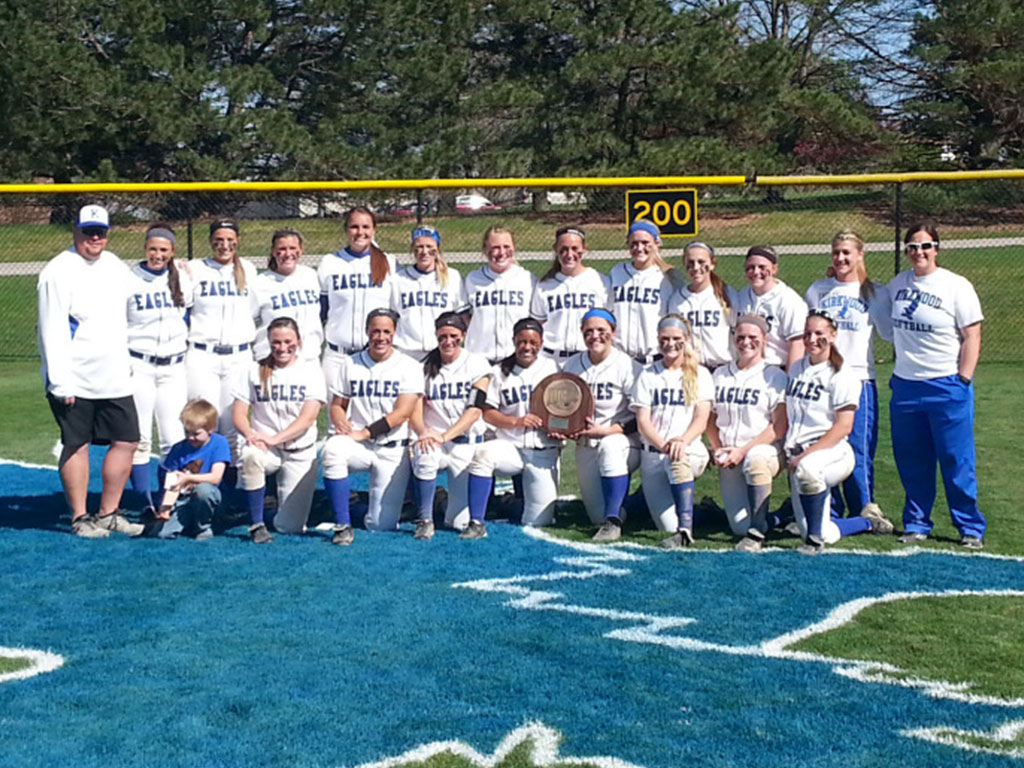 The Kirkwood Eagles softball team after winning the Region XI championship
UPDATE 5/14/15: Clinton, Miss. (May 14, 2015)-The Kirkwood softball team held on to defeat the Mercyhurst North East Saints on Wednesday by a score of 3-2. The third-seeded Eagles stay in the winners bracket and move on to face the eleventh-seeded Johnson County Cavaliers on Thursday (5/14) at 3:30 p.m. The Cavaliers defeated sixth-seed Illinois Central to advance.
For more coverage of the game, check out Metro Sports Report.
UPDATE 5/1/15: Cedar Rapids, Iowa (May 1, 2015)-The sixth-ranked Kirkwood softball team defeated North Platte Community College for the District G Championship and now move on to the National Junior College Athletic Association (NJCAA) Division II Softball National Championship on May 13-16 in Clinton, Miss. The Eagles defeated the Knights in two games by scores of 9-0 and 19-1. 
Check back with the Kirkwood Report for more national tournament coverage.
Cedar Rapids, Iowa (April 27, 2015)-The Kirkwood softball team defeated the Southwestern Community College Spartans by a score of 17-3 and claimed the NJCAA Region XI-A title this afternoon.
The Eagles move on to host North Platte Community College May 1-2 in Cedar Rapids for the District G championship. The winner moves on to the national tournament. The schedule for the double-elimination District championship is as follows:
*****DISTRICT G CHAMPIONSHIP*****
What: Kirkwood (43-8) vs. North Platte (19-27)
Where: Kirkwood Softball Field
Friday, May 1
Game 1 – 2 p.m.
Game 2 – 4 p.m.
Saturday, May 2
Game 3 – Noon (If necessary)