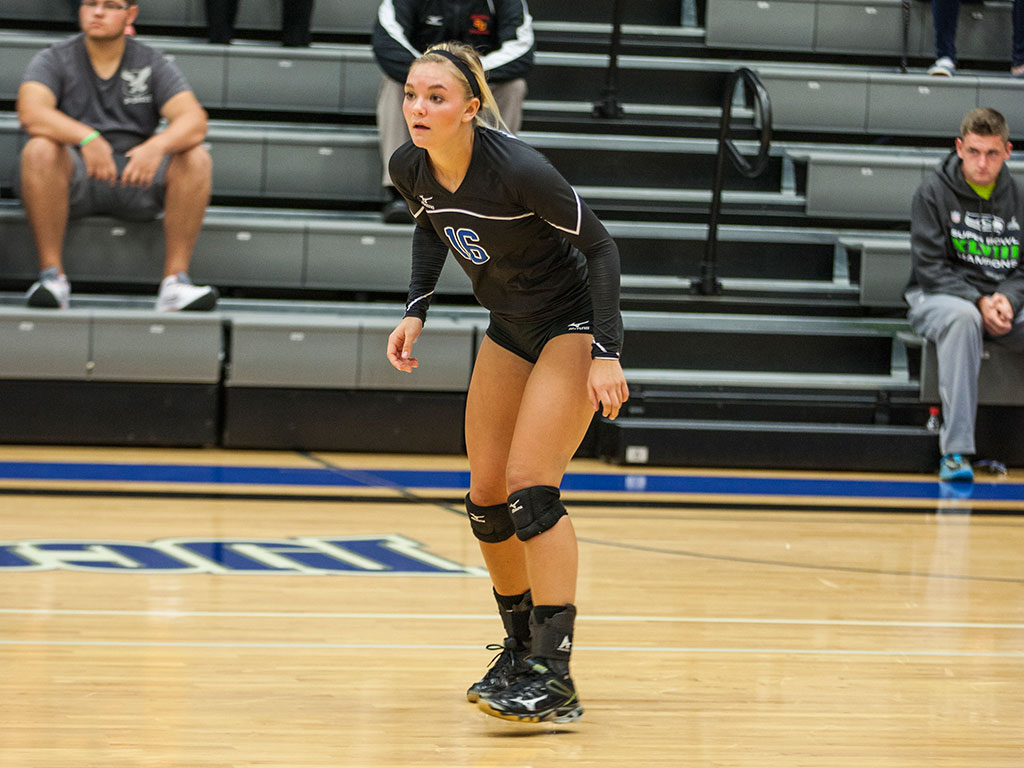 Kirkwood's Halle Lueck
Eagles to be led by returning All-conference sophomores
Cedar Rapids, Iowa (August, 21 2015)-The Kirkwood volleyball team returns three sophomores with considerable experience to go with a talented freshman class as the Eagles 2015 season kicks off this weekend. The team will face Kansas City Community College at the Johnson County Community College Invitational Tournament in Overland Park, Kan. today.
Kirkwood Volleyball Head Coach Jill Williams, now in her 11th season, will rely on All-conference players Halle Lueck (Ely, Iowa) and Erin Wenzel (Clinton, Iowa) to lead the team back to a championship. Lueck, who is a setter on the team, is no stranger to success. In addition to first team All-conference honors, she was named first-team All-region as well as a member of the Region XI-B All-tournament team. Wenzel, an outside hitter, earned second team All-conference and All-region honors following last season. Outside hitter Natalie Demmel (Marengo, Iowa) is expected to provide veteran leadership as well.
The incoming freshman class is inexperienced but have a lot of potential. Many new Eagles had extensive success at the high school level as well as club team experience. Set to make their debuts this season are Haley Schulte (Cedar Rapids, Iowa), Summer Kopet (West Liberty, Iowa), Nicole Christensen (Carlisle, Iowa), Erica Armstrong (Guttenburg, Iowa), Madsy Richards (Cedar Rapids, Iowa), Brittni Wright (Cedar Falls, Iowa), Alex Miner (Gilbert, Iowa), Morgan Grimm (Osage, Iowa), Jenna Laxton (Moline, Ill.), Catie Collins (Tama, Iowa), Caiti Peterson (Marion, Iowa) and Keke Pledge (Cedar Rapids, Iowa).
Williams knows how to get the most out of her team both on and off the court. In addition to various athletic accolades, last year's team excelled in the classroom as well. As a group, the Eagles earned National Junior College Athletic Association All-academic team honors with a cumulative GPA of 3.384. In addition, William's squad earned an American Volleyball Coaches Association Team Academic Award. Two out of the three returning sophomores earned Iowa Community College Athletic Conference Academic All-region honors. Lueck was named to the first team while Demmel made the second team.
The Eagles start the season today on the road at the Johnson County Community College Invitational Tournament. The team returns to Johnson Hall for their home opener versus Grand View University August 25 beginning at 6:30 p.m.