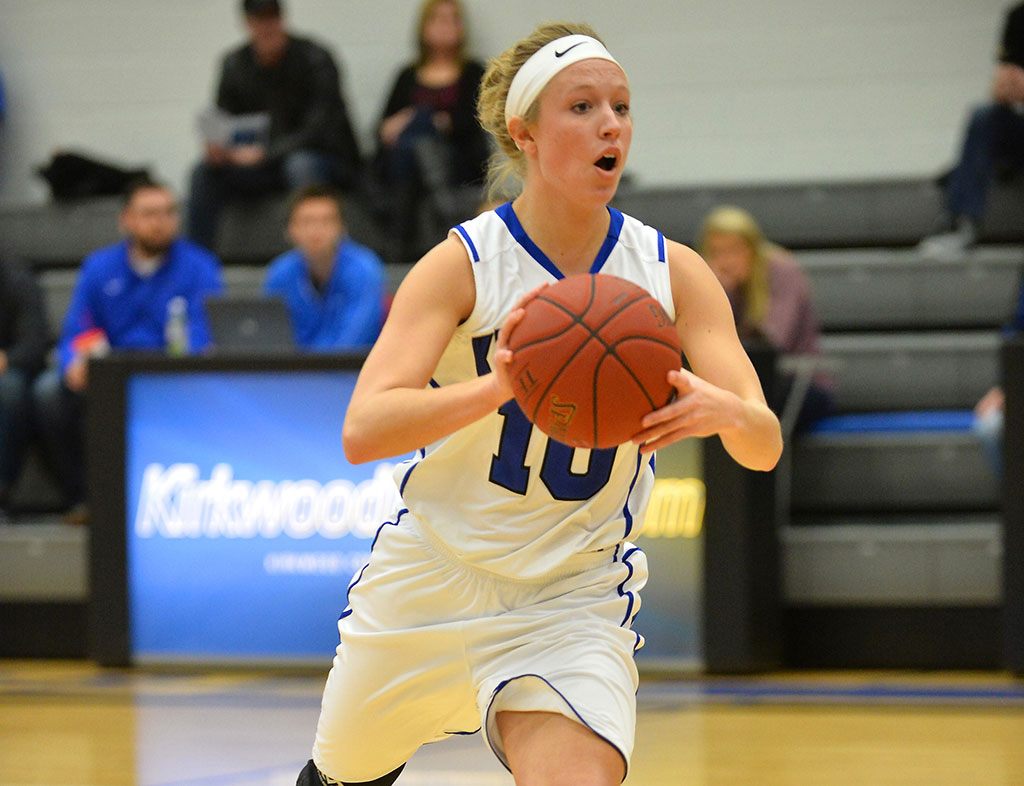 Kirkwood's Casey Miles
No. 6 Eagles aim higher after a fifth place national finish last year
Cedar Rapids, Iowa (October 29, 2015)-The sixth-ranked Kirkwood women's basketball team will open the 2015-2016 season on the road on October 30 with aspirations of winning another national championship. The Eagles will face off against State Fair Community College at the State Fair Classic in Sedalia, Mo. beginning at 5:30 p.m.
Already in the National Junior College Athletic Association Women's Basketball Hall of fame, Kirkwood Head Coach Kim Muhl knows what it takes to win on the court. He has coached six different Eagles teams to national championships, with the most recent coming in 2010. Muhl knows that despite their recent success, nothing will come easy.
"It takes hard work to win a championship," said Muhl. "You have to put in the time and effort to reach those kinds of heights. You have to earn it. My players know what I expect from them – especially the sophomores. Our returning players got some great experience at the national tournament last year. They'll need to take that experience and teach the new players how to succeed at this level. I'm looking forward to seeing how far this team can go. If it all comes together, we could do some great things on the court."
Six sophomores will lead the team this season. Kirkwood is very experienced at the guard position with Cyerra Hutchins (Cedar Rapids, Iowa), Casey Miles (Hudson, Iowa), A.J. Downs (Merrillville, Ind.), Addie Oberman (Clinton, Iowa) and Caitlin Sudduth (Country Club Hills, Ill.) all coming back this year. Post player Madison Wood (Waterloo, Iowa) is returning to the Eagles as well.
New to the team are freshmen guards Deleyah Harris (Omaha, Neb.), Mesha Wheatly (Chicago, Ill.) and Ariana Dampier (Glenwood, Ill.). Kirkwood's first-year post players are Dominque Jennings (Cahokia, Ill.), Chazney Jones (Brownsburg, Ind.), Rylee Voss (North English, Iowa), Amber Lemons (Chicago, Ill.) and Lyric Douglas (Memphis, Tenn).
After opening the season with three road games, the Eagles will return to Johnson Hall for their home opener versus Culver-Stockton College on November 4. Tip off is scheduled for 1 p.m.