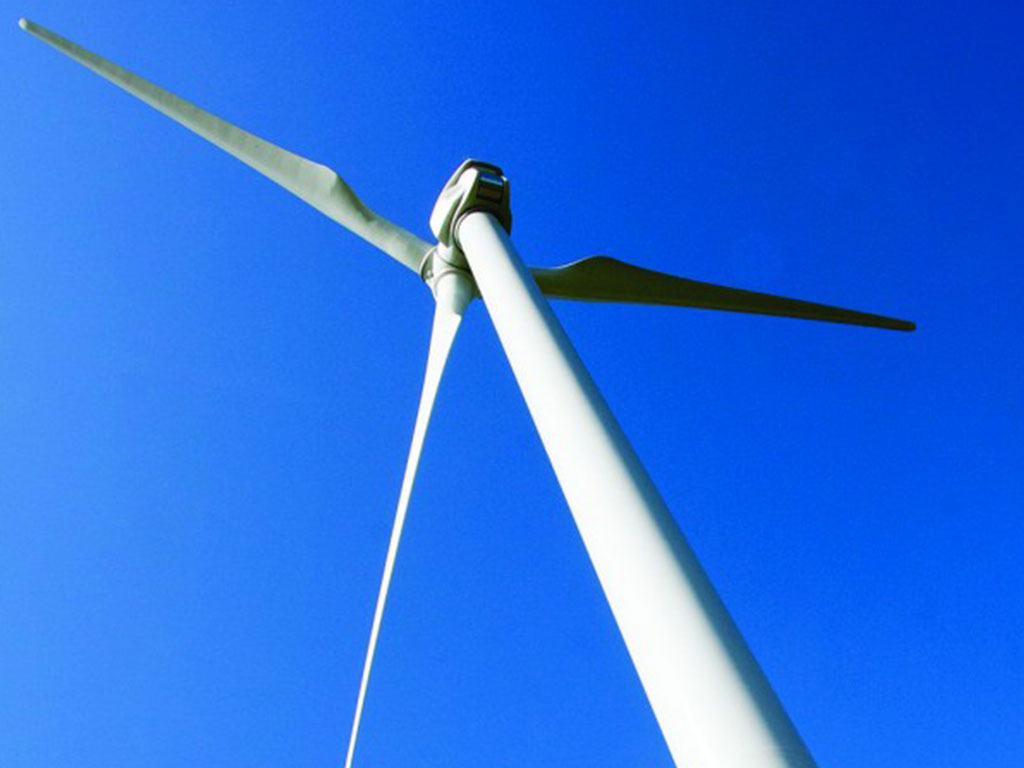 In-kind donation from Clipper Windpower will boost developing Kirkwood college programs
Beginning in early 2011, students in a new Kirkwood Community College program will discuss wind turbine technologies—then walk a short distance and see real wind turbine equipment, up-close and direct.
Clipper Windpower, Inc. has agreed to supply Kirkwood with several large, key components of a Liberty Wind Turbine for teaching and training purposes. Equipment will be donated to the Kirkwood Jones Hall facility, allowing students to work with actual components of wind turbines currently producing energy in Iowa and around the world.
Kirkwood officials acknowledge this significant donation of equipment as "core, crucial and vital" to teaching wind energy production and related technical skills at the college.
"We emphasize real life, hands-on training in all our Kirkwood technology programs. This donation certainly helps us accomplish this goal," said Industrial Technologies Dean Jeff Mitchell.
Components received through the in-kind gift include a turbine base casting which would otherwise be attached to the top of a 275 foot tower, a hub casting with pitch bearings to which turbine blades would be attached and other support equipment. The hub, when connected to the Quantum gearbox drive system, powers four generators to produce the necessary voltage to eventually feed the high voltage requirements of the electrical grid.
"These kinds of turbine units are supplying a growing part of energy needs of homes and businesses across the country," Mitchell added.
The pledge of equipment comes with a commitment from the Clipper Cedar Rapids plant for consultation and guidance as Kirkwood prepares to launch a new college credit program in Energy Production and Distribution. The new program of study is part of the Industrial Technologies division at the college and will build on the successful Industrial Maintenance Technology program already taught at Kirkwood.
"The beauty of this program development is the core skills and knowledge we now teach in the first year of our Industrial Maintenance curriculum is a solid base for our students to then branch out into their choice of energy industry training in year two," Mitchell observed. "This plan also lets the students consider and learn more about their career options during the first year, to flexibly prepare and decide on what job pathway to take in that second year."
In addition to wind energy skills, students in the new program can earn certifications in photovoltaic energy production and power generation in coal, steam, natural gas and nuclear sectors.
The new Energy Production and Distribution program has also gotten a boost from a grant from the State of Iowa Energy Sector Partnership. A total of $464,726 was awarded to Kirkwood in early October, providing support for curriculum, labs and direct job training to meet the growing energy sector employment in Iowa. This additional grant allowed Kirkwood to obtain key lab training modules and the accompanying training curriculum for those systems.
Vice President of Continuing Education and Training Services Kim Johnson said the new program and job skills training "answers a need at the right time" for the region's economic development.
"We know there are already more than 40 companies in our regional supply chain providing services to the energy industry. That translates to more than 2,500 current positions in the region, directly support the industry. The number of energy-related jobs will increase as additional energy sector employers expand and locate their facilities here in this region. Currently, supply chain vendors are hiring Kirkwood industrial technology graduates. We know the additional grads will find additional opportunities as these companies locate and expand," Johnson said.
Recent labor market figures show a total job involvement for Iowa energy production at more than 5,000 employees working in sectors as diverse as solar generation, "smart grid" and electrical transmission, energy efficiency installations and energy product manufacturing.
"Clipper is pleased to be able to support Kirkwood's efforts to prepare knowledgeable and skilled wind turbine technicians for the wind energy industry, said Training Supervisor Paul Hess. "We require a broad set of mechanical, electrical and electronic skills. The need for trained, dependable technicians within the fast-growing wind industry will continue to expand. Kirkwood's new Energy Production and Distribution program is positioned to fill this growing need."
"We are delighted to receive this relevant and unique technology from Clipper, and welcome their help to grow important jobs for Iowa's future," said Kirkwood President Mick Starcevich. "This is some of the best news we can hear as our local economy continues to recover and we develop new energy solutions for our state. It's kind of like how we understand Clipper's process of 'just in time' manufacturing. Our state grant, our already well-developed core program in Industrial Maintenance and the growing energy sector all set the stage. Now, this tremendous help of Clipper's actual turbine technology will help us create a training lab second to none in the region. We will soon start providing dozens of well-trained professionals as Iowa's home-generated energy sector grows with us. It's a great day for Kirkwood and the state."
More information on the developing Energy Production and Distribution courses at Kirkwood is available from Industrial Technologies Dean Jeff Mitchell, (319) 398-4983, or via e-mail: jeff.mitchell@kirkwood.edu