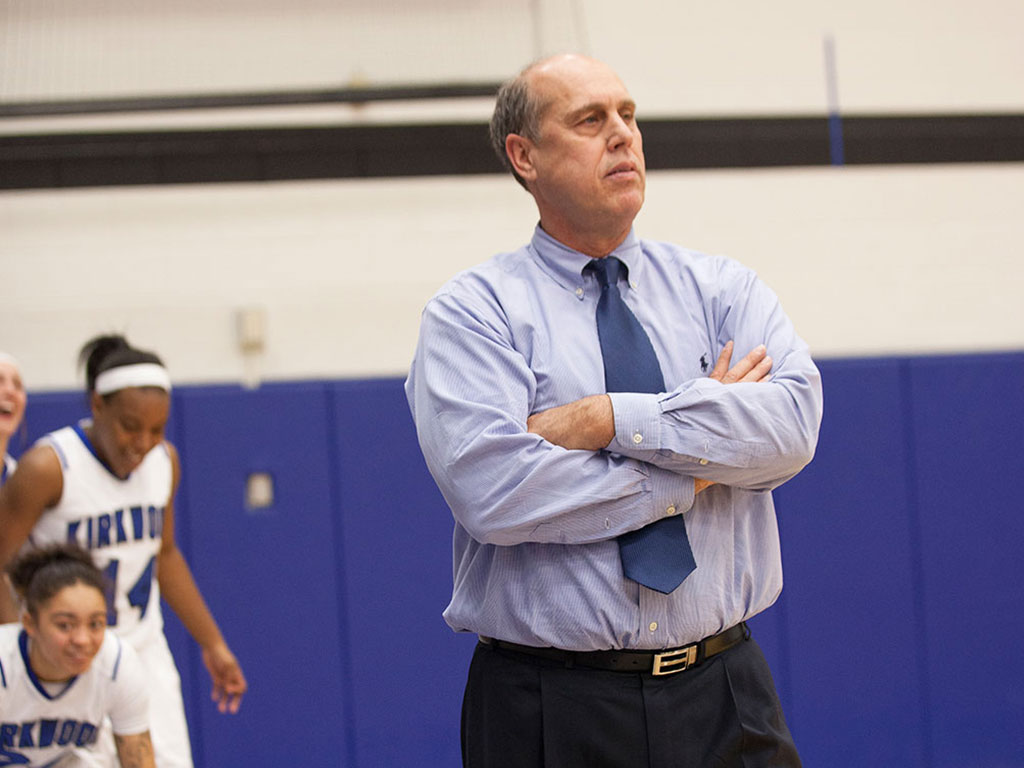 Kirkwood's Kim Muhl
Hall of Fame Coach Adds Another Milestone to Amazing Career
Cedar Rapids, Iowa (January 22, 2015)-Kirkwood Eagles Women's Basketball Head Coach Kim Muhl earned his 750th win on Wednesday night as he coached his team to a 74-39 over Ellsworth Community College in Iowa Falls on Wednesday night. Muhl, now in his 26th season at Kirkwood, has an overall record of 750-139 record overall for his career. He ranks sixth in National Junior College Athletic Association (NJCAA) history for total wins and is the fourth highest among active coaches.
Already in the NJCAA Women's Basketball Hall of Fame, the impressive win total is just one of the achievements on Muhl's stellar résumé. In addition to his six national titles, he has coached the Eagles to 15 regional titles and 19 consecutive 25-win seasons. He has also coached 24 All-Americans and has helped many of his players move on to NCAA Division I careers.
Kirkwood Community College Athletics Director Doug Wagemester credits Muhl's success to not only his approach to the game, but his approach to his players as well.
"Coach Muhl has been a cornerstone in the Kirkwood Athletic Department for 25 plus years," said Wagemester. "He has set the bar very high for this department in terms of program standards. What most people are not aware of is that he has always cared first about his athletes as people and students with the understanding that through hard work and commitment, the basketball would take care of itself. We are extremely proud of what he, his staff and all of his current and former athletes have contributed to the Kirkwood Women's Basketball Program and look forward to more success in the future."
This season, Muhl has coached the Eagles to a 16-4 record, 4-0 in conference, and once again has the team ranked in the top five. His squad is currently on a 12-game win streak.
Up next for the Eagles is a road trip to Southwestern Community College (2-15, 1-3) on Saturday, before returning to Johnson Hall to face rival DMACC on January 28.
Kirkwood plans on commemorating Muhl's 750th win at an upcoming home game.