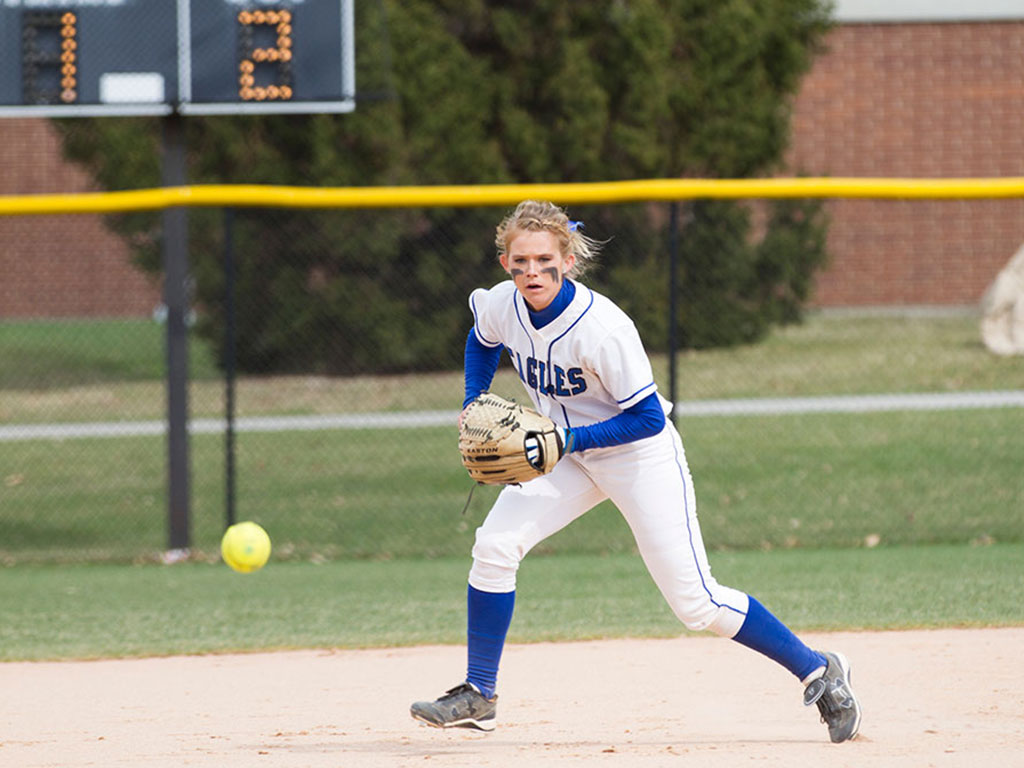 Kirkwood's Brooke Prior
Eagles hope to repeat magic of last two years
Cedar Rapids, Iowa (February 20, 2015)-The Kirkwood softball team looks to continue its winning ways as it opens the 2015 season on the road versus Riverland Community College at the Rochester Tournament in Rochester, Minn. on February 27. The Eagles not only hope to surpass the previous two 50-plus-win seasons, the goal is to do even better.
After a 55-3 record in 2013 as well as a 52-8 finish in 2014, Head Coach Joe Yegge's have quite a task in front of them if they are to exceed the Eagles recent success. However, with a good mix of returning veterans and incoming talent, the sky is the limit. The returning sophomores who helped the team rank in the top 10 nationally in seven offensive categories a year ago including runs (451, 6th), runs batted in (403, 4th), home runs (59, 9th) and walks (201, 1st). Defensively the Eagles boasted a 1.49 earned run average to go with 14 shutouts (3rd) and an opponent's batting average of .239 (7th). With the bar set that high, the incoming freshmen will have a lot to learn from the veterans on the team.
The returning sophomores are outfielder Alex Finn (Davenport, Iowa), infielder Alicia Crivaro(Des Moines, Iowa), outfielder Chasney Jenkins (East Moline, Ill.), infielder Tara Walls (Oxford, Iowa), infielder Erin Weno (Iowa City, Iowa), utility player Natalie Clark (Des Moines, Iowa), shortstop Brooke Prior (Silvis, Ill.), infielder Lexie Biehl (Maquoketa, Iowa), and catcher Lexi Quandt (Davenport, Iowa).
Kirkwood opens the season with almost a month of games on the road before returning to Cedar Rapids for the home opener versus Iowa Lakes Community College on March 21. First pitch is scheduled for 1 p.m.