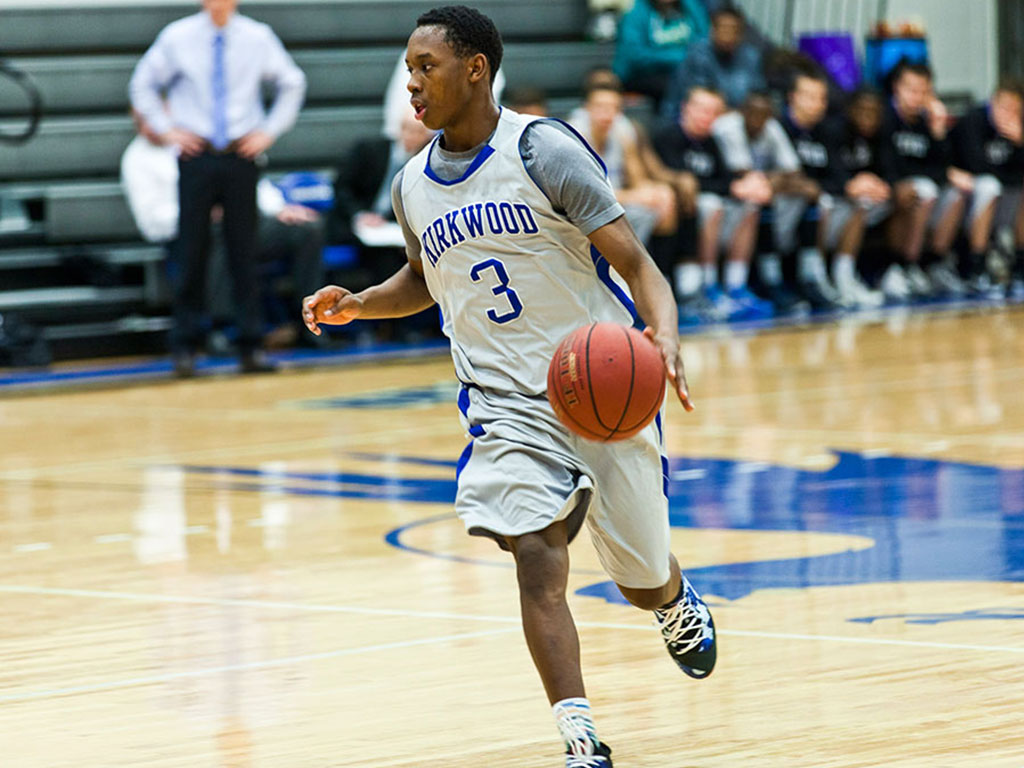 Kirkwood's Ajay Lawton
Eagles host Black Hawk College tonight at 7 p.m. in Johnson Hall
The Kirkwood men's basketball team (4-0) has started the season undefeated and hopes to continue their winning ways as they open the home schedule tonight versus Black Hawk College.
Second-year Head Coach Bryan Petersen, fresh off an impressive 21-win season in his first year at the helm, is happy with how the team has started this year's campaign. However, he expects the team to continue to improve as the team moves forward.
"I am pleased with how we have started the season," said Petersen. "We have handled the challenges of a pretty tough schedule so far, including some neutral site and road games, but we have a long way to go to reach our goals. This group has been coachable and they've been working hard. Sophomores Matt Lassen, Joe Tagarelli, and Ajay Lawton are leading the way but will need to be consistent leaders for this team to succeed. All three are main contributors and know the expectations of our program. I'm also looking for Jordan Ashton to step up and show leadership throughout the year."
Tagarelli and Lawton bring quality experience to this year's squad as both were recognized as top players in the conference following last season. Tagarelli was given first-team All-District honors and Lawton was named to the second-team. In addition to the veterans, point guard Hunter Rhodes, forward Chike Ukah, and combo guard Jacob Olson all look to compete for playing time in their first season with the Eagles.
Even though Petersen is excited about his team's potential as the season unfolds, he also knows the value of a home court advantage.
"We want to get more fans to Johnson Hall to support the Eagles," said Petersen. "It would be awesome to see Johnson Hall filled and to create a real home court advantage for our team this year. We have a great home schedule for fans to watch some quality basketball."
*****Kirkwood Men's Basketball Home Opener*****
What: Kirkwood versus Black Hawk College
When: Tonight at 7 p.m.
Where: Johnson Hall on Kirkwood's main campus