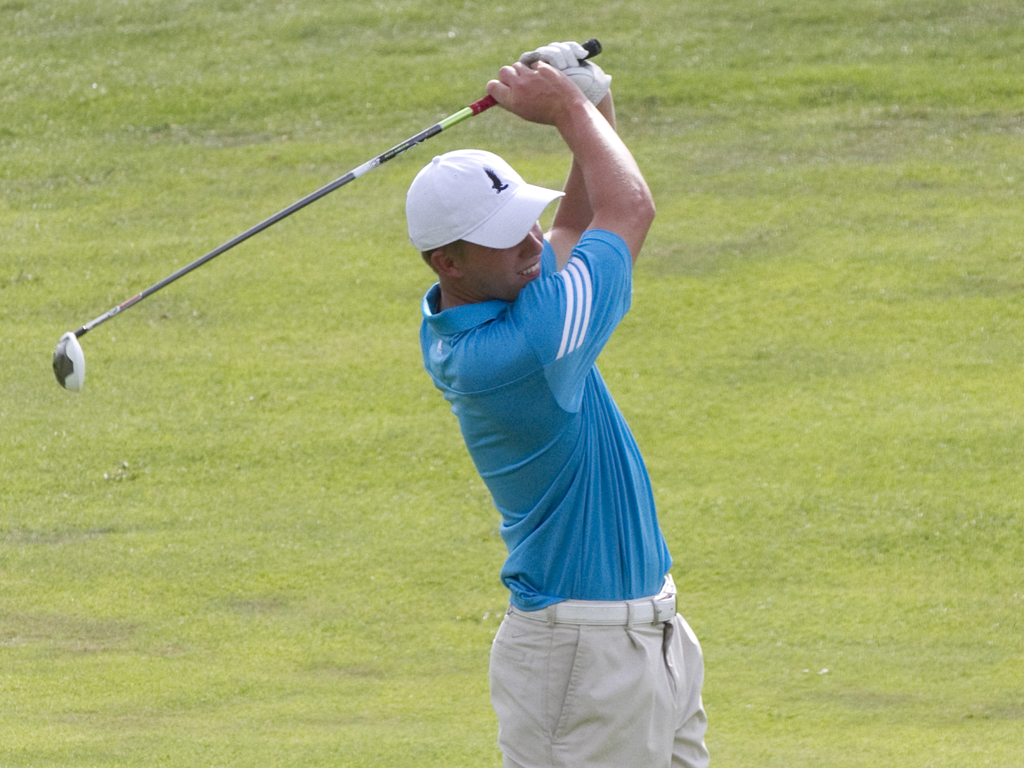 Kirkwood Hits the Links
Eagles look to continue winning ways after fourth place finish at nationals
The Kirkwood golf team wrapped up last season with an impressive fourth place finish at the national tournament. The Eagles hope to continue their dominance on the links as they start the 2013-2014 campaign.
This season the Eagles have an influx of young talent mixed with veteran leadership. Kirkwood Men's Golf Head Coach Darin Pint, now in his 18th year, is excited about the possibilities for his team and is eager to start strong.
"We had a great season last year, but that doesn't necessarily translate into success the following season," said Pint. "We have to continue to work hard to get where we want to be. If we maintain our focus and keep at it, there's no reason we can't have the same kind of success this year."
Returning for their sophomore year are Logan Baburek (Belle Plaine, Iowa), Sheldon Gryp (Victor, Iowa), Ryan Palser (Creston, Iowa), and Brian Schreck (Carroll, Iowa). All four will benefit from being on a team that finished in the top five in the nation last year.
The new faces on the team are freshmen Blaine Buhr (Denver, Iowa), Austin Buhrow (Denver, Iowa), Jon Calhoun (West Des Moines, Iowa), Nathan Chilcott (Barry, South Wales), Kurtis Christensen (Independence, Iowa), Drew Digmann (Cedar Rapids, Iowa), Ben Jones (East Sussex, England), and Drew Slings (Williamsburg, Iowa).
"Our veterans will provide some much needed leadership for the freshmen and can show them what it takes to be successful," said Pint. "The team is ready for the challenges ahead and we're looking forward to showing what we can do on the course."
The Eagles golf team begins the fall season with the Mount Mercy Invitational this weekend at Hunters Ridge Golf Course in Marion.