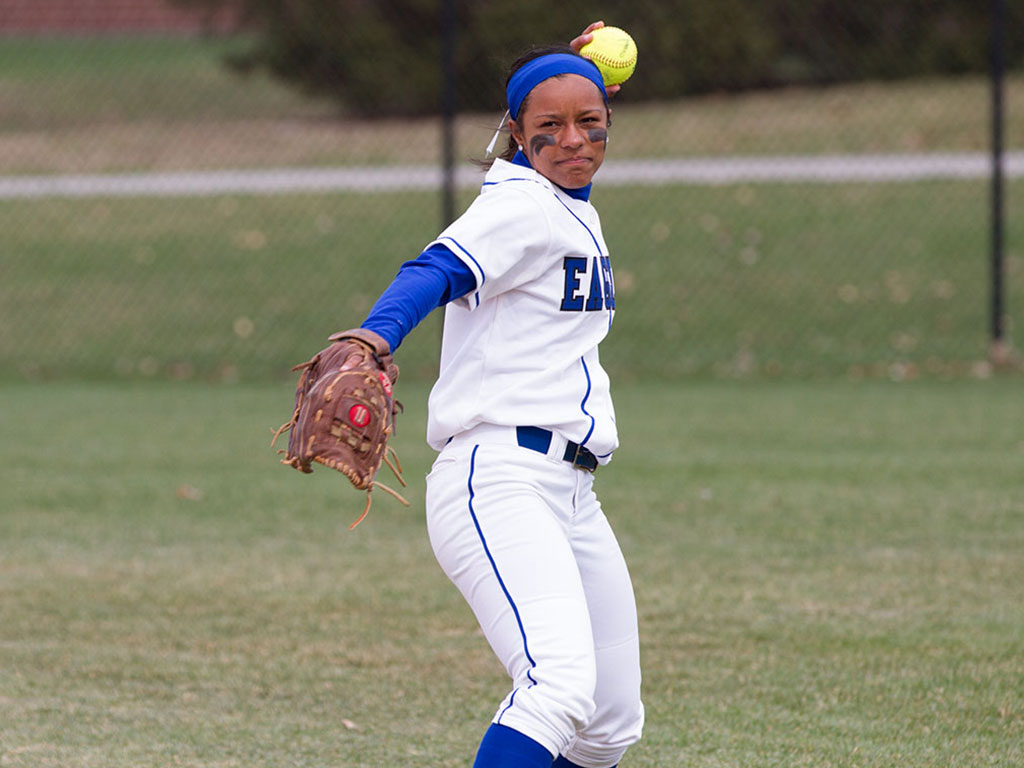 Kirkwood's Chasney Jenkins
UPDATE 4/24/15: Regional Tournament Moved to Sunday 4/26 and Monday 4/27
Due to weather concerns, the National Junior College Athletic Association (NJCAA) Region XI Division II Softball tournament will begin on Sunday, April 26. The game times are as follows:
Sunday, April 26
Game 1 – Noon – (4) Southwestern vs. (7) Ellsworth
Game 2 – 2 p.m. – (1) Kirkwood vs. Loser Game 1
Game 3 – 4 p.m. – (1) Kirkwood vs. Winner Game 1
Monday, April 27
If all three teams are tied at 1-1, the #1 seed receives a bye:
Game 4 – 2 p.m. – #4 seed vs. #7 seed
Game 5 – 4 p.m. – #1 seed vs. Winner Game 4
No. 8 Eagles clinched conference title earlier in week by defeating No. 4 DMACC
Cedar Rapids, Iowa (April 23, 2015)-The Kirkwood softball team wrapped up the number one seed for the NJCAA Region XI Division II Softball tournament after defeating rival DMACC on Monday. The Eagles will now host the Region XI-A DII softball tournament this weekend (April 25-26).
Kirkwood Head Softball Coach Joe Yegge, who won his sixth conference title in eight years, has the team firing on all cylinders as they head into postseason play. After sweeping a doubleheader versus fourth-ranked DMACC earlier in the week, the eighth-ranked Eagles improved their record to 40-8 overall and 23-1 in the Iowa Community College Athletic Conference (ICCAC). This is the third year in a row that Yegge's team has finished the regular season with a single digit number in the loss column. Last season the Eagles headed into the postseason sporting a 49-6 overall record while going 22-2 in the conference. Following the 2013 regular season, Kirkwood had a 48-3, 28-0 mark.
Once again, Kirkwood is in the top ten in the nation in multiple statistical categories. Sophomore infielder Lexie Biehl is tied for first for most homeruns (22) as well as fifth in RBI (70). Brooke Prior, a sophomore shortstop, is fourth in the nation for homeruns (18) and sixth in RBI (69). In addition, sophomore outfielder Chasney Jenkins is second in the nation for stolen bases (60) and sixth in batting average (.536). Freshman pitcher Nicolette Simpson is tied for eighth in the wins category (16).
The winner of the regional tournament moves on to the district championship for a chance to go to nationals. The Eagles first challenge will be to face the loser of fourth-seeded Southwestern Community College and seventh-seeded Ellsworth Community College. First pitch follows game one and is scheduled for 2 p.m. on Saturday.
For more information on the tournament, as well as a tournament bracket, go to iccac.org.