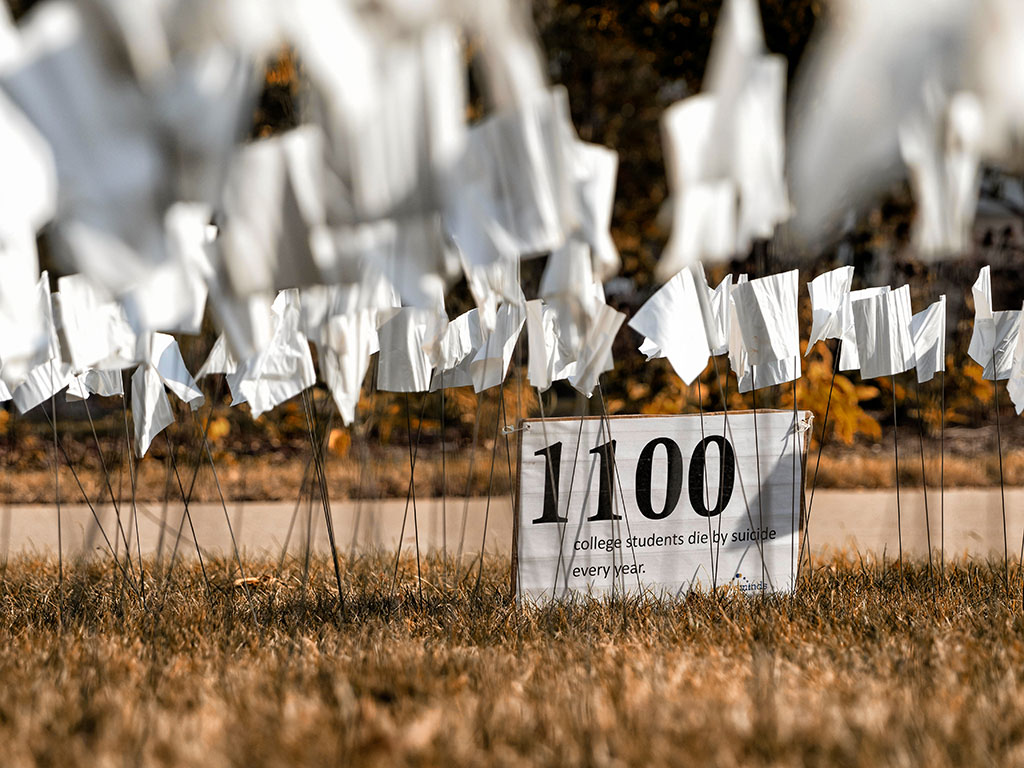 CEDAR RAPIDS, Iowa (Sept. 10, 2019)-Kirkwood Community College will host a display of 1,100 flags representing the approximate number of students who die by suicide each year. Organized by the student group Active Minds, the event will take place near Iowa Hall on the college's main campus in Cedar Rapids this Thursday, Sept. 12, from 9 a.m. to 2 p.m.
Held annually since 2013, the display is part of a larger effort by the group to show the impact that suicide has on college students and their loved ones. In addition to the flags, information tables will be set up by Foundation 2 and Active Minds to provide more information to students and staff about the issue as well as ways to promote suicide prevention.
To Faith Wiley, a second year Kirkwood student and Active Minds member, the flags are visual reminder of a subject that some have difficulty discussing.
"I enjoy participating in this project," said Wiley. "When people take time to stop and view the display, it has the potential to spark a really good conversation. A conversation that most people duck their heads to avoid. One of the reasons I got involved in Active Minds was because I wanted to be a part of the hard discussions that people are often uncomfortable having."
Active Minds is a national organization that advocates for mental health awareness and education for high school and college students. The Kirkwood chapter meets on a weekly basis on the college's main campus in Cedar Rapids.
For more information on Active Minds, go to www.activeminds.org.
*****EVENT*****
What: Active Minds Flag Display
When: Thursday, Sept. 12, from 9 a.m. to 2 p.m.
Where: Kirkwood Community College main campus north of Iowa Hall