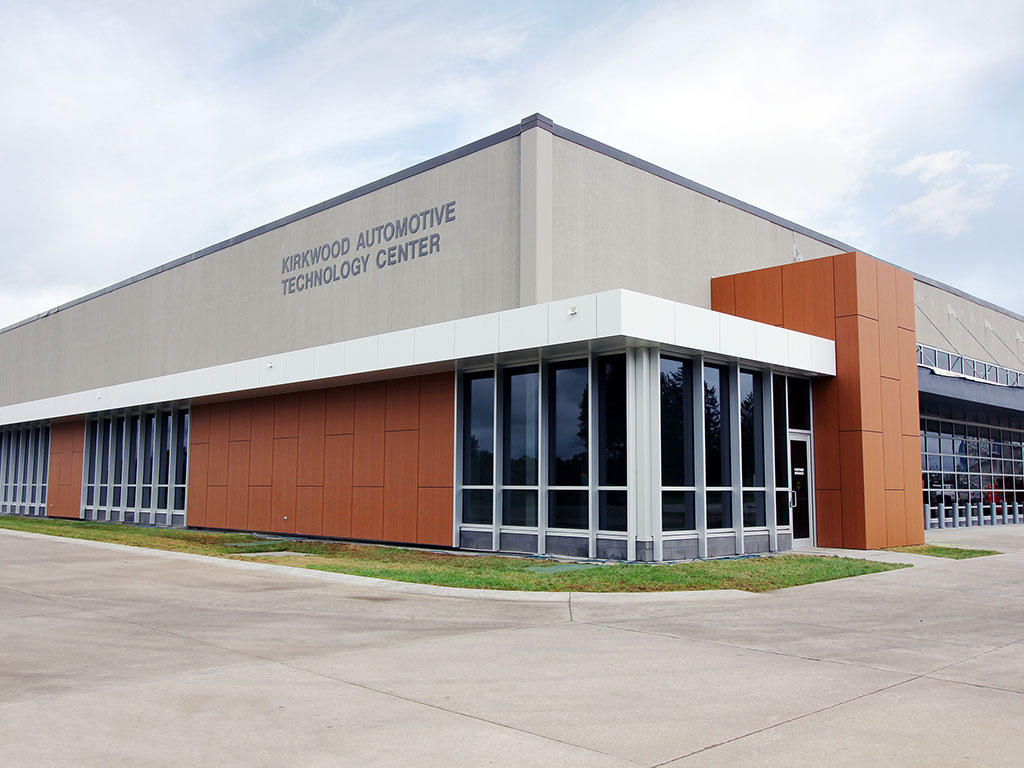 $6.5 million facility made possible by 2017 bond referendum
CEDAR RAPIDS, Iowa (September 9, 2019)-Kirkwood Community College will hold a dedication and open house for the new Kirkwood Automotive Technology Center this Thursday, September 12, beginning at 3 p.m. The event will feature remarks by college leaders followed by tours of the new learning space.
Designed to mirror an auto repair shop normally found at a dealership, the 38 thousand square foot facility houses an extensive array of technology to ensure that students are prepared to make an immediate impact in the auto industry after graduating. The new space features a stand-alone chassis and transmission dynamometer allowing for measurement of horsepower torque, wheel speed, and engine systems. In addition, the building has multiple rows of automotive service bays as well as updated classrooms with enough room to bring vehicles inside to assist in class instruction.
According to Kirkwood Industrial Technologies Dean Dan Martin, the center is a one-of-a-kind learning environment.
"Our new Auto Tech facility is very unique to the state and possibly the country," said Martin. "It vastly improves our ability to train and prepare new automotive technicians for challenging and rewarding careers. The center also enhances our ability to recruit future technicians from the high schools as well as those wanting to change jobs into a higher paid, highly technical new career. People that have come to see the space have told us there's really no other place like it."
Construction of the state-of-the-art, $6.5 million facility was funded by a bond referendum that voters passed in 2017. To Martin, the vote was an investment by the community that is already showing signs of paying dividends.
"All of our Automotive Technology classes are full this fall," said Martin. "Part of the reason for the renewed program enthusiasm is our incredible new facility. The students who see this place first hand are going to want to be a part of it. Once they graduate, they'll be immediately ready to contribute to our regional workforce in a career they love."
*****EVENT*****
What: Kirkwood Automotive Technology Center Dedication and Open House
When: Thursday, September 12, 3-4:30 p.m.; Program begins at 3:15
Where: Kirkwood Automotive Technology Center, 101 50th Ave SW, Cedar Rapids