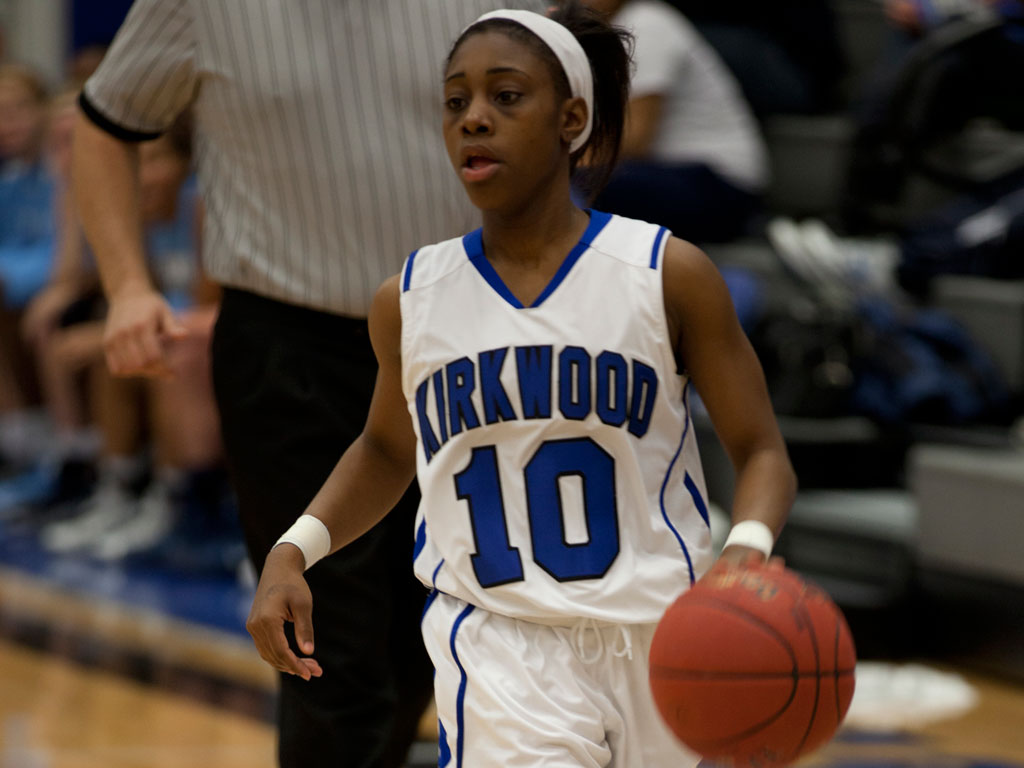 Kirkwood's Danielle Woolfolk
Both the men and women's teams are three seeds going into Region XI Tourney
Cedar Rapids, Iowa (March 3, 2014)—The postseason begins for both Kirkwood Eagles basketball teams on Tuesday in Johnson Hall. The men and women's teams each hold three seeds going into the Region XI tournament.
The Kirkwood women finished the regular season with an overall record of 24-6 and 12-4 in the Iowa Community College Athletic Conference (ICCAC.) Six-time national champion Head Coach Kim Muhl, in his 25th season at Kirkwood, had his team in the top ten for most of the season, peaking at number one. They head to the postseason ranked 11th in the nation.
"The season has gone pretty well considering the injuries and the youth of the team," said Muhl. "We have done a nice job getting into the position we are in. The postseason is up for grabs with NIACC being the favorite going into it. We have had two good games with them so I really think the tournament will be a toss up."
The Kirkwood women will face the sixth-seeded Iowa Lakes Community College Lakers (7-23, 4-12) at 5:30 p.m. in Johnson Hall.
The Kirkwood men also head to the postseason as the third seed in the Region XI tournament. Under first-year Head Coach Bryan Petersen, the Eagles have reached 20 wins and finished with an overall record of 20-9 and 10-4 in the ICCAC.
"My first season as head coach has provided me many learning experiences," said Petersen. "Our season has had its ups and downs but this group has continued to work hard and get better. We have a young group and it took us sometime to figure out who we are. I am excited for this group to enter the postseason. The expectations are high and we are looking forward to making a deep run in the tournament."
The Kirkwood men take on the sixth-seeded NIACC Trojans (20-10, 7-7) on Tuesday night following the women's game. Tipoff is scheduled for 7:30 p.m. in Johnson Hall.